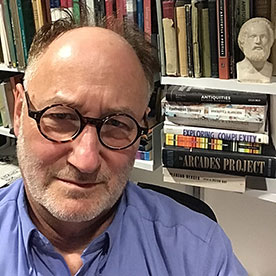 Professor Ahuvia Kahane
Regius Professor of Greek (1761) and A. G. Leventis Professor of Greek Culture (2017)
I obtained a DPhil in classics from Balliol College, Oxford. Previously, I've held teaching and research positions at Oxford, Harvard, Northwestern University, and Royal Holloway University of London. I joined Trinity College Dublin in 2019.
Research Interests
My research considers a broad range of poetic, historical, linguistic, scientific and ethical aspects of the relation between formal order and radical (=at root) divergence and 'complexity' in antiquity. I am also interested in the relationship between antiquity and modernity, in aspects of temporality, historical time and literary history. I am committed to both the disciplinary strengths of classics and to interdisciplinary research and have been closely involved with humanities centres round the world since 1994. I am working and have published work on early Greek epic and other forms of mainly Greek but also Latin literature, as well as in the fields of reception studies, sociology, visual culture, contemporary critical thought, modern philosophy and its relation to antiquity, modern poetry, digital humanities, and Hebrew and Jewish literature and culture.
Research Supervision
I welcome applications for prospective PhD students and postdoctoral researchers in many areas of ancient literature and culture as well as areas that link to contemporary culture and critical thought. I welcome students with literary, linguistic, philosophical, comparative and theoretical interests. I currently supervise PhD students at Trinity College Dublin, Royal Holloway, University of London and the Royal College of Art.
Selected Publications
Oral Theory, Complexity and Homeric Epic (De Gruyter, forthcoming 2021).
Epic, Novel, and the Progress of Antiquity (Bloomsbury Academic, forthcoming 2021).
The Gods in Greek Hexameter Poetry and Beyond (F. Steiner, 2016).
Homer: Guide for the Perplexed (Continuum/Bloomsbury, 2012).
Social Order and Informal Codes (in Hebrew. Jerusalem: Resling, 2012).
Antiquity and the Ruin (Revue européenne d'histoire 18, 2011 - special double-issue).
Diachronic Dialogues: Continuity and Authority in Homer and the Homeric Tradition (Rowman and Littlefield, 2005).
A Companion to the Prologue to Apuleius' Metamorphoses (Oxford, 2001).
The Chicago Homer (Online; Northwestern University, since 2000).
Written Voices, Spoken Signs: Tradition, Performance and the Epic Text (Harvard, 1997).
The Oxford English Hebrew Dictionary (Oxford, 1996).
Homer: Odyssey (in Hebrew. Jerusalem: Keter, 1996).
The Interpretation of Order: A Study in the Poetics of Homeric Repetition (Oxford, 1994).
Contact Details
O: Classics Dept
T: +353 1 896 1304
E: KAHANEA@tcd.ie