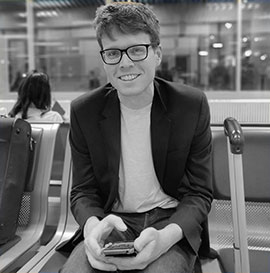 Dr Charlie Kerrigan
Research Fellow
I completed a BA in History & Latin here in TCD, and then spent a year at Exeter College, Oxford, before returning to Trinity to write a PhD – a history of Virgil's Georgics and its reception in Britain and the British empire – under the supervision of Professors Monica Gale and David Scourfield (2018, available here). I'm interested in Latin literature of the first century BCE, primarily in Augustan poetry and its reception, and especially in how postcolonial and feminist approaches to such texts and their histories can support a politically-engaged pedagogy, centred on students' own being-in-the-world. Current projects include revision of my PhD for publication, papers on the Roman triumph in Latin poetry and on women in the Georgics, and outreach work as part of the Classics Department's tabella project. I also teach Latin to undergraduates, postgraduates, and extramural students in the school. 
Selected Publications
'Virgil's Georgics in Nineteenth-Century Ireland', forthcoming with Classics Ireland.
'Political Georgics', guest blog post for the Women's Classical Committee (UK), available here.
Contact Details
O: Classics Dept
T: +353 1 896 1208
E: ckerriga@tcd.ie