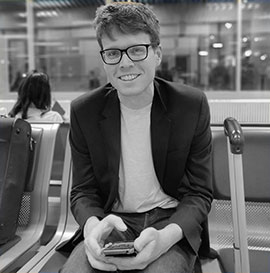 Dr Charlie Kerrigan
Assistant Professor In Latin
I grew up in Dublin (though with Munster connections), and have been lucky to study both here at Trinity (BA, PhD) and the University of Oxford (MSt). I've been teaching in the Department of Classics since 2018.
I teach Latin language and literature, and I'm particularly interested in bringing the subject to diverse audiences both inside and outside College. This work includes the elective module TEU00392: Latin One Language, Many Cultures (for TCD students), the CAI Latin Summer School (for teenagers and young adults), and the extramural course Latin Language and Culture (for members of the public). I also give one-off talks to school and community groups as my schedule permits: please get in touch if you are a community organiser/teacher based in Ireland and would like to know more.
My research currently falls into three strands. First, the poetry of Virgil (70BCE–19BCE) and especially its influence in later times. Second, the history of the Latin language more generally, its journey to Romance, and what it can teach us about language, culture, and politics, both in Ireland and around the world. Third, I'm interested in the theory and practice of (language) teaching, and in articulating the value of the Arts and Humanities in uncertain times. I would be happy to supervise work that engages with any of these three strands.
Selected Publications
Living Latin: Everyday Language and Popular Culture (Bloomsbury, 2024, pbk, €18)
'Gramsci and the Latin of Ordinary People', in M. Bellomo, A. M. Cimino, V. Saldutti and E. Zucchetti (eds), Class and Classics: Subalterns and the Production of Classical Culture (Berlin: De Gruyter, 2024).
'Women's Virgil: Reception as Re-imagination', in K. Moore (ed.), The Routledge Companion to Ancient Greek and Roman Gender and Sexuality (Routledge: New York and London, 2023).
'Environment and Empire: Georgic Through Time', in P. Bullard (ed.), A History of English Georgic Writing (Cambridge, 2022).
Virgil's Map: Geography, Empire, and the Georgics (Bloomsbury, 2020).
Contact Details
O: Classics Dept
T: +353 1 896 1208
E: ckerriga@tcd.ie