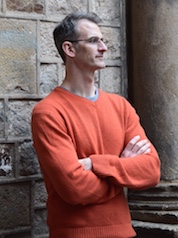 Dr Ashley Clements
Assistant Professor in Greek Literature and Philosophy
I studied Ancient History and Social Anthropology at University College London, Classics at Cambridge, and taught at Durham University before joining the Classics Department at Trinity College Dublin in 2006.
Research Interests
My research straddles a variety of areas in Classical Greek literature and philosophy and the reception of ancient thought. My book (2014: CUP) examines the popular reception and political use of early Greek philosophy by the Greek comic poet Aristophanes in his comedy Thesmophoriazusae ('Women at the Thesmophoria') (411 BC). Further articles examine Greek (popular and philosophical) conceptions of the senses and of perception, and my current book project is an introduction to the long dialogue between the disciplines of Anthropology and Classics which explores how Classical conceptions are and have always been foundational in Western approaches to the question of what characterizes the human.
Research Supervision
I am happy to supervise doctoral work in any of the following areas: Archaic and Classical Greek literature and/or philosophy (esp. from the Presocratics to Plato), the anthropology of the ancient Greek world, the reception of ancient Greek thought.
Selected Publications
Clements, A. (2014) Aristophanes' Thesmophoriazusae: Philosophizing Theatre and the Politics of Perception.Cambridge University Press.
Clements, A. (2014) 'The senses in philosophy and science: five conceptions from Heraclitus to Plato', in J. Toner (ed.), The Cultural History of the Senses in Antiquity. Berg Press: 115-38.
Clements, A. (2014) 'Divine scents and presence', in M. Bradley (ed.), Smell and the Ancient Senses. Routledge: 46-59.
Clements, A. (2013) '"Looking Mustard": Greek popular epistemology and the meaning of drimus', in S. Butler and A. Purves (eds.), Synaesthesia and the Ancient Senses. Acumen Press: 71-88.
Clements, A. (2009) 'Thesmophoriazusae's Two Dawns', Mnemosyne 62: 535-67.
Teaching
My teaching spans a range of Greek literary and philosophical authors and texts of the Archaic and Classical period. Recent topics have included: early Greek poetry, the Presocratics, Herodotus, Aristophanes, the Sophists, and Plato. I also teach Greek Language, and Final-year courses on Greek conceptions of wisdom from the sixth to the fourth centuries BC, on Greek Comedy, and on modern anthropological approaches to the ancient world.
Contact Details
Department of Classics
Trinity College
Dublin 2
Telephone: 00 353 1 896 4014
Fax: 00 353 1 671 0862
Email: clementa@tcd.ie