Line of Enquiry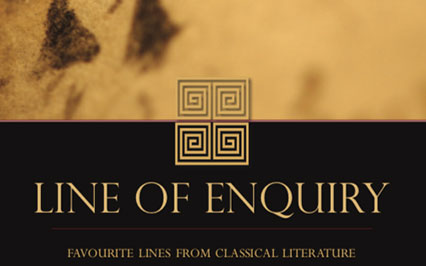 Line of Enquiry is a Trinity College Classics initiative that challenged 50 classicists with the disarmingly simple task of choosing their one favourite line of classical literature (in Latin, Greek, or English) and explaining their choice in one short page. Their responses and reflections have been brought together in one collection– illuminating in its variety and refreshing in its candidness. From the Gospel of St. John at number one to the closing of the Iliad at number fifty, it makes compulsive reading for classicists and non-classicist alike. Each of the fifty contributions is a manifesto, a summation of a life (however short or long) shaped by a study of the Classics.
The book, published by Trinity College Press, includes contributions from freshmans, fellows, priests and poets in one unlikely collection. Gathered here is the work of current Trinity undergraduates, postgraduates and professors, world-renowned academics from Trinity, Yale, Harvard, Berkeley, Oxbridge, as well as Irish cultural icons such as Michael Longley and Peter Fallon.
What this literary bazaar of a collection affirms again and again to the reader is that the study of Classics shapes itself into the imprint of individual lives, acting as a companion and a totem in every stage of life. Tales of grief and wistful nostalgia fill these pages but here also is found uproarious flippancy, assiduous scholarship and everything in between. Where each contributor lands on this spectrum tells its own tale. What emerges is an inexhaustible variety that answers to the different facets of what a 'favourite' line entails.
The Inspiration
Line of Enquiry is titled after Lines of Enquiry, the popular and enduring book by Niall Rudd, one of the most distinguished classicists of his generation, who graduated from the Classics department at TCD and later held the Chair of Latin at Bristol University. Niall Rudd passed away in 2015 and Line of Enquiry is dedicated to his memory.
Is there any value in personal recollection - and in this collection? In the words of Niall Rudd, the towering Trinity classicist in whose memory this project was undertaken, "perhaps the magpie's approach, however unrespectable academically, is the most rewarding." In spite of their vastly different responses to the same basic question, and perhaps because of it, the fifty pieces in this magpie's collection reflect the unique light of fifty individual lives shapes by their study of the classical world.