CL7034 Greeks and Barbarians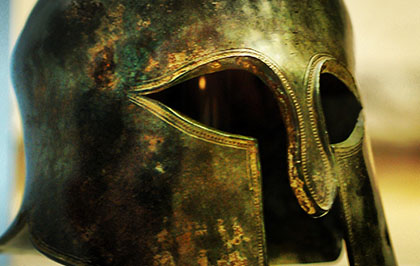 How did the Greeks view non-Greek cultures? This module will explore the long tradition of cross-cultural interaction between Greeks and non-Greek 'barbarians' from Homer to the Hellenistic period. Questions of identity and ethnicity will be raised throughout and focus will continually placed on the means by which Greek identity was simultaneously enforced by yet adaptive to engagement with non-Greek 'barbarians'. The seminars within this module will draw upon a wide variety of literary, archaeological, numismatic, art-historical, epigraphic, and papyrological sources.
Module Organiser:
Duration:
Contact Hours:

22 (1 x 2-hour seminar p.w.)

Weighting:
Assessment:

100% Continuous Assessment
Introductory Reading
E. Bridges, E. Hall, & P.J. Rhodes (eds.), Cultural Responses to the Persian Wars: Antiquity to the Third Millennium(Oxford, 2006)
P. Cartledge, The Greeks: A Portrait of Self and Others, 2nd edition (Oxford, 2002)
E. Gruen, Rethinking the Other in Antiquity (Princeton, 2010)
E. Hall, Inventing the Barbarian: Greek Self-Definition through Tragedy (Oxford, 1989)
T. Harrison Greeks and Barbarians (Edinburgh, 2002)
L. Mitchell, Panhellenism and the Barbarian in Archaic and Classical Greece (Swansea, 2007)
E. Said, Orientalism (New York and London, 1978)
K. Vlassopoulos, Greeks & Barbarians (Cambridge, 2013)
Learning Outcomes
On successful conclusion of this module, students will be able to:
Present a sophisticated knowledge of Greek engagement with non-Greeks cultures.
Trace how the Greek conception of non-Greek cultures developed over time.
Analyse critically modern readings of the past, particularly ideas of orientalism and otherness.
Engage in independent research and formulate an original argument.
Present their ideas effectively in both written and oral form.
Integrate and analyse numerous different types of evidence and assess critically their relative strengths and weaknesses.