CL7020 The Eternal City: The Archaeology of the City of Rome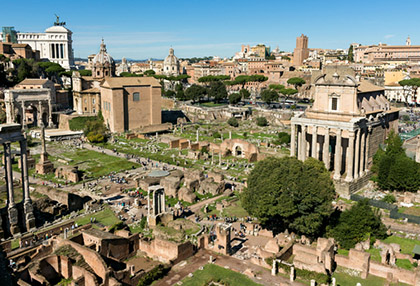 This module presents material for the history and archaeology of ancient Rome in an inter-disciplinary manner, with methodological questions and problems being considered throughout.  A time-span from the original development of settlement on the site to the fall of Rome in the West is envisaged.  The objective is to familiarise students with a city which has been a centre of power and religious ritual throughout its existence, in terms of mass residence, political display, and both artistic and architectural elite patronage.  The module  aims to provide a guide through the topography of the modern as well as of the ancient city, making students aware of contemporary controversies concerning urban development and the conservation of antiquities.
Module Organiser:
Duration:

Michaelmas Term (Sept-Dec)

Contact Hours:

22 (1 x 2-hour seminar p.w.)

Weighting:
Assessment:

100% Continuous Assessment
Learning Outcomes
On successful conclusion of this module, students will be able to:
On successful completion of this module students should be able to:
Outline and explain different aspects of the history of ancient Rome
Identify and search for relevant secondary literature
Engage with relevant theoretical and critical approaches to the history and archaeology of Rome in this period
Apply different techniques of evaluation and interpretation to relevant primary sources and evidence
Critique relevant historiography in the light of study of primary sources
Present and discuss analysis of questions relating to the history and archaeology of Rome
Analyse the impact on Rome of different political, social, artistic and economic developments during the period.