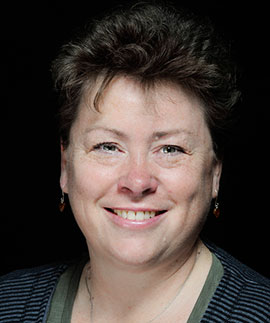 Dr Hazel Dodge
Louis Claude Purser Associate Professor in Classical Archaeology
I studied Archaeology at the University of Newcastle upon Tyne and held a British Academy Post-Doctoral Fellowship at the University of Oxford, before coming to Trinity in 1994. I was nominated as Samuel H. Kress Lecturer of the Archaeological Institute of America for 2010-2011. In the Spring of 2013 I held the Frederic Lindley Morgan Visiting Chair in Architectural Design at the University of Louisville, Kentucky. For 2018-19 I have been nominated as a Samuel H. Kress Alumni Lecturer for the AIA.
Research
My research is based in and aroundmy interest in Roman construction and building technology. Firstly, I am particularly interested in the quarrying, transport, distribution and use of decorative stones in the Roman world; secondly, I work on ancient spectacle and the buildings which were developed to accommodate the different types of entertainment; thirdly, urbanisation in the ancient world, and particularly the development of the City of Rome.
Selected Publications
Hazel Dodge, Roman Colours of Power. Egyptian Stones for the City of Rome, Cultures of Stone, UCD Dublin, September 2014, B. Gilhooly, N. Kelly, S. Mallía-Guest, Dublin 2018
'Building for an Audience: the Architecture of Roman Spectacle in, editor(s) Roger Ulrich and Caroline Quenemoen, Blackwell Companion to Roman Architecture, Oxford, Blackwell, 2013, 281-298
'Amphitheatres', P. Christesen and D. Kyle (eds), Blackwell Companion to Sport and Spectacle, Oxford 2014, 545-560
"Other Spectacle Sites', P. Christesen and D. Kyle (eds), Blackwell Companion to Sport and Spectacle, Oxford 2014, 561-577
'Roman Amphitheatre', Encyclopedia of Global Archaeology, 2nd ed Springer 2018
Spectacle in the Roman World, Bristol Classical Press, London 2011
'Amphitheatres in the Roman East', in T. Wilmott (ed), Roman Amphitheatres and spectacula: a 21st century perspective. Papers from the Chester conference, February 2007, Chester, UK, Oxford 2009, 29-45
'Circuses in the Roman East: A Reappraisal', in J Clement-Nelis and J-M Roddaz (eds), Actes du Colloque Le cirque romain et son image, Bordeaux, 2008, 133 -146
editor (with J. C. N. Coulston), Ancient Rome: the Archaeology of the Eternal City, Oxford University School of Archaeology Monograph 54, Oxford 2000
with Peter Connolly, The Ancient City, Oxford University Press 1998
with B. Ward-Perkins, Marble in Antiquity Collected Papers and lectures of J. B. Ward-Perkins, British School at Rome Mon. 6, London, British School at Rome, 1992
Teaching & Supervision
I am happy to offer supervision for research degrees in any aspects of the material culture, art and architecture  of the Roman world.
I teach or contribute modules in Roman Archaeology, Roman History, Roman Britain, Greek and Roman Art and Architecture, Sources and Evidence in Archaeology and History, Entertainment and Spectacle in the Ancient worldl Ancient and Medieval Rome, and Hellenistic and Roman Egypt.
Contact Details
O: Arts B6015
T: +353 1 896 1093/1208
E: hdodge@tcd.ie