CL7030 Gender and Genre in Augustan Poetry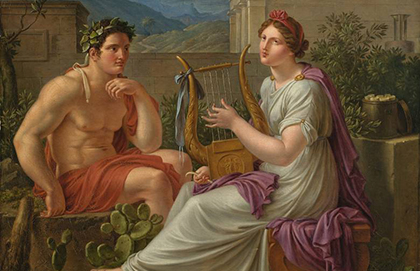 This module will explore the importance of genre theory for the study of Augustan poetry, and the relation between generic choices and discourses of gender in Augustan Rome. How far does literary genre determine the models of masculinity and femininity adopted in any particular work? Why did the Romans consider some genres more masculine than others? Does it make a difference when the writer is a woman?
Module Organiser:
Duration:
Contact Hours:

22 (1 x 2-hour seminar p.w.)

Weighting:
Assessment:
Introductory Reading
Set texts for the course will be Horace, Epodes (selections), Propertius 2 (selections), the elegies of Sulpicia ([Tibullus] 3.13-18), Virgil, Aeneid 5, and Ovid, Ars Amatoria 3.
Recommended Editions
Virgil, Aeneid 5 and 9
Latin, Book 5: R.D. Williams, Oxford, 1960 Latin, Book 9: P.R. Hardie, Cambridge, 1994 Translation: S. Lombardo, Indianapolis: Hackett, 2005
Propertius 2
Latin: ed. W.A. Camps, Cambridge 1967 Translation: G. Lee, Oxford 'World's Classics', 1996
Horace, Epodes
Latin: ed. D. Mankin, Cambridge, 1995 Translation: D. West, Oxford 'World's Classics', 2008
Ovid, Ars Amatoria 3
Latin: ed. E.J. Kenney, Oxford, 1961 (OCT) Translation: A.D. Melville, Oxford 'World's Classics' 1990
Sulpicia, Elegies = [Tibullus 3.13-18]
Latin: ed. G. Lee, Liverpool, 1982 Translation: Lee's text (above) includes English translation; or A.S. Kline, on-line at http://www.poetryintranslation.com/PITBR/Latin/Tibullus.htm (external) (click on 'Sulpicia's Verses')
Learning Outcomes
On successful conclusion of this module, students will be able to:
Demonstrate familiarity with genre theory and its application to the texts under study.
Demonstrate understanding of the texts under study, and ability to analyse them with particular reference to the issues of gender and genre.
Analyse and assess scholarly interpretations of the texts under study.
Display an awareness of the theoretical bases of their own and other scholars' interpretations of Classical texts.
Demonstrate proficiency in oral presentation and discussion and in written argument and analysis.