CLU22201 Heroism, Identity and Authority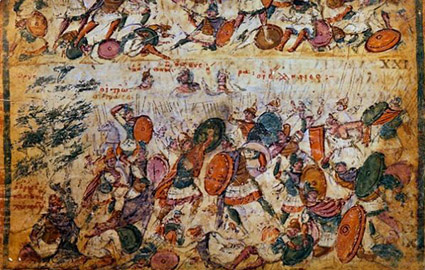 The 'hero' is one of the central, if particularly diverse and changeable concepts that define and structure of private identities and public patterns of authority in the ancient Greco-Roman world and beyond, right up to the present. In this module we'll examine and interrogate the idea of the hero through the lens of ancient epic, exploring Homer's Iliad and Odyssey as well as Virgil's Aeneid in search of what heroism might mean, then and now.
Module Organiser:

Prof. Ahuvia Kahane, Dr Charlie Kerrigan, Dr Martine Cuypers, Mr George Prekas

Duration:
Contact Hours:

27 (22 lectures and 5 seminars)

Weighting:
Assessment:

50% coursework (two written assignments), 50% written examination

Course Open To:

Classics, Ancient History and Archaeology; TJH Classical Civilisation; Columbia Dual Degree; Ancient and Medieval History and Culture; Visiting; Open Module
Learning Outcomes
On successful conclusion of this module, students should be able to:
Demonstrate a critical appreciation of the style, content, and themes of Homer's Iliad and Odyssey and Virgil's Aeneid.
Critique the multi-faceted concept of the heroism in its ancient Greek and Roman contexts.
Think in a nuanced historical and trans-historical fashion about modern definitions of heroism and their relation to the ancient world.
Display a critical appreciation of both close readings of texts and relevant scholarship and the ability to assimilate and selectively combine sources and ideas.
Develop comprehensive oral and written presentation skills.
Develop teamworking skills.