CLU22203 Gender and Sexuality in the Ancient World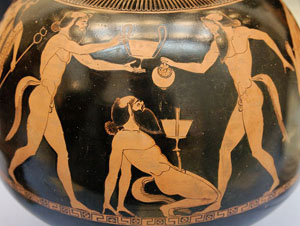 This module examines issues of gender and sexuality in either the Greek or the Roman world. You will study contrastive portrayals of women and men, ideals of masculinity and femininity, sexual norms and codes, theories about the male and female body, views on marriage, rape, adultery and prostitution, and the relation between art and 'real life': what we may deduce from texts and visual sources about the gender roles men and women were expected to play within family and state.
Module Organiser:

DDr Martine Cuypers, Prof. Monica Gale

Duration:
Contact Hours:

16 (11 lectures, 5 seminars)

Weighting:
Assessment:

100% coursework (two / three written assignments)

Course Open To:

Classics, Ancient History and Archaeology; TJH Classical Civilisation; Columbia Dual Degree; Ancient and Medieval History and Culture; Visiting; Open Module
CLU22205 Gender and Sexuality in the Ancient World with Project
This 10-ECTS version of the module includes a substantial element of independent research on a topic to be agreed with the module coordinator.
Learning Outcomes
On successful conclusion of this module, students should be able to:
Discuss Greek and Roman constructions of gender and sexuality, including central or influential views on masculinity and femininity, the male and female body, gender roles, love, sexuality, marriage, rape, adultery, and prostitution
Analyse relevant textual and visual evidence with consideration of its literary, cultural and historical contexts
Discuss the problems involved in reconstructing social realities from the available sources
Recognise key concepts, theories and approaches of modern gender theory and gender historiography
Articulate evidence-based views both orally and in writing