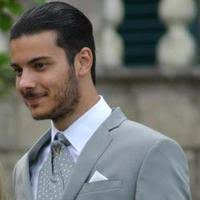 Davide Amendola
Irish Research Council Postdoctoral Fellow
Davide Amendola was trained at both the University of Pisa, from the BA to the MA (2007–2012), and the Scuola Normale Superiore of Pisa, from the BA to the PhD (2007–2016), supervised by Carmine Ampolo and Maria Serena Funghi. At the SNS, he has subsequently served as a postdoctoral research assistant for the projectGreek Envoys and Diplomacy in the Hellenistic and Roman World, directed by Anna Magnetto (2016–2018, 2019). More recently, he has been Fellow of the Harvard Center for Hellenic Studies in Washington, D.C. (2018–2019) and is currently a Research Associate of the Waterloo Institute for Hellenistic Studies. He has also held visiting fellowships at Princeton University (2014), at the École Normale Supérieure of Lyon (2015–2016) and at the Fondation Hardt (2019).
His research focuses on Greek political, institutional, social and cultural history, chiefly in the late Classical and Hellenistic ages. He is especially interested in ancient historical writing and antiquarianism, Greek inscriptions and epigraphic habit, literary and documentary papyrology, Greek and Roman oratory. He also works on the modern historiography of the ancient world and, more generally, on the history of Classical scholarship.
His IRC-funded postdoctoral project Attica in Egypt: New Insights into the Cultural and Political Interaction between Athens and the Lagid Monarchy (305–229 BC) investigates how the Athenian model became a key political and cultural resource in Ptolemaic Egypt by attempting to understand in what ways and through what media the Lagids engaged therewith. His interest in most of the questions involved in this project began during his doctoral research on the so-called 'Demades Papyrus' (P.Berol. inv. 13045 = BKT VII, 13–31), which will culminate in the publication of his first monograph in the international series Sozomena: Studies in the Recovery of Ancient Texts (De Gruyter).
Publications
'Capire un documento: indagini sulla citazione delle fonti letterarie e documentarie nella Cronaca di Lindo', ASNP s. 5 6/1 (2014), 63–90 (cf. SEG LXIV 728).
'Plethon's Opuscula de historia Graeca and Bruni's Commentarium rerum Graecarum: Rewriting Greek History between the Byzantine and the Latin Renaissance', in J. Matula & P. R. Blum (eds.), Georgios Gemistos Plethon: The Byzantine and the Latin Renaissance, Olomouc 2014, 323–351.
'Il ritorno di Senofonte nell'Umanesimo: il Commentarium rerum Graecarum di Leonardo Bruni e le Elleniche', in G.Albanese, C. Ciociola, M. Cortesi, C. Villa (eds.), Il ritorno dei Classici nell'Umanesimo. Studi in memoria di Gianvito Resta, Firenze 2015, 55–68.
'Lo σφαιρικὸς λόγος del Περὶ τῆς Νεστορίδος di Asclepiade di Mirlea (F 4 Pagani): problemi testuali e interpretativi', in F. Guidetti (ed.), Poesia delle stelle tra antichità e medioevo, Pisa 2016, 51–85.
'The Account of Demosthenes' Suicide in P.Berol. inv. 13045, B II', ZPE 204 (2017), 16–21.
'A Ptolemaic 'Speculum Principis' in P.Berol. inv. 13045, A I-III?', in G. Roskam & S. Schorn (eds.), Concepts of Ideal Rulership from Antiquity to the Renaissance (Lectio – Studies in the Transmission of Texts and Ideas, 7), Turnhout 2018, 123-154.
(with H. Malay, M. Ricl) 'The City of Tralleis Combats Immorality: Measures Taken against οἱ ἐν κιναιδείᾳ βιοῦντες in a New Civic Decree', EA 51 (2018), 91–97.
(with J. Thornton, A. Magnetto, E. Rosamilia) 'Le fonti per lo studio della storia ellenistica: storiografia, testi epigrafici, papiri, monete', in M. Mari (ed.), L'età ellenistica. Società, politica, cultura, Roma 2019, 197–232.
'Presbeutikoi and Enteuktikoi Logoi in Hellenistic Interstate Relations: Some Further Thoughts from an Epigraphical Perspective (c. 306-205 BC)', Ktèma 44 (2019), 87–103.
'The Eagle and the Owl: Athenian Legacies in Early Ptolemaic Alexandria', CHS Research Bulletin 7 (2019), available at http://nrs.harvard.edu/urn-3:hlnc.essay:AmendolaD.The_Eagle_and_the_Owl.2019
'PHibeh 28. Costituzione 'utopistica' di ambito peripatetico', forthcoming in Corpus dei papiri filosofici greci e latini. Testi e lessico nei papiri di cultura greca e latina, II: Frammenti adespoti, 1: Frammenti testuali, Firenze 2019.
'La nozione di 'Ellenismo' e le sue «guise» nell'opera di Treves', forthcoming in A. Magnetto (ed.), Piero Treves e la storia ellenistica, Pisa 2019.
The Demades Papyrus (P.Berol. inv. 13045): A New Edition with Commentary (Sozomena: Studies in the Recovery of Ancient Texts), Berlin-Boston 2020.
Conference: Beyond Athenocentrism
Video - Attica in Egypt: Athens and Alexandria Between the Late Fourth Century BCE and the Outbreak of the Chremonidean War
Contact Details
E: amendold@tcd.ie
Academia.edu: https://tcd.academia.edu/DavideAmendola