CL3058/CL4058 Wisdom and Tradition in the Archaic and Classical Worlds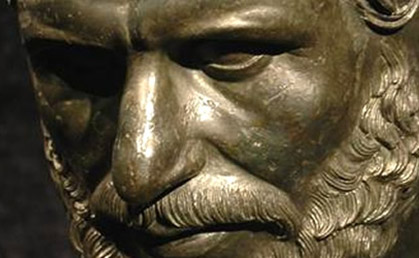 What was wisdom (sophia) for the Archaic and Classical Greeks? In what forms was it displayed, claimed, canonized, and contested? This module explores the polyvalence of Greek conceptions of sophia through the concept of the 'wise man' (sophos) from its early exemplars in the 6th and 5th Centuries BC—figures of extraordinary poetic, political, or religious knowledge and masters of mêtis (practical cunning)—to Plato's characterization of Socrates in the 4th Century BC.
Module Organiser:
Duration:
Contact Hours:

CL3058: 33 (one 2-hour class and one 1-hour language lab per week); CL4058: 22 (one 2-hour class per week)

Weighting:
Assessment:

40% continuous assessment (one assessed presentation, one written assignment), 60% final examination
Learning Outcomes
On successful conclusion of this module, students should be able to:
Read and analyze the prescribed texts in the original Greek
Situate the texts studied in a wider tradition of Greek wisdom literature and demonstrate proficiency in reconstructing philosophically plausible positions for each one
Demonstrate a sound knowledge of recent scholarly interpretations of the texts and issues studied
Recommended Reading List
West, M. L. (1971) Iambi et Elegi Graeci, 2 vols. Oxford.
Lesher, J.H. (1992) Xenophanes of Colophon: Fragments: A Text and Translation with Commentary. Toronto.
Kahn, C. (1979) The Art and Thought of Heraclitus. Cambridge.
Coxon, A. H. (1986, reprnt. 2009) The Fragments of Parmenides. Las Vegas.
Wright, M. R. (1981) Empedocles: The Extant Fragments. New Haven.
Bryn Mawr Commentaries:
Johnstone, H. W. (1985) Empedocles: Fragments. Bryn Mawr.
Johnstone, H. W. and Sider, D. (1986) The Fragments of Parmenides. Bryn Mawr.
Johnstone, H. W. (1989) Heraclitus: Peri Physeos. Bryn Mawr.
Introductory Reading
Martin, R. P. (1993) "The Seven Sages as performers of wisdom", in C. Dougherty and L. Kurke (eds.), Cultural Poetics in Archaic Greece. Cult, Performance, Politics. Cambridge: 108-28
Nightingale, A. (2000) "Sages, sophists, and philosophers: Greek wisdom literature," in O. Taplin (ed.), Literature in the Greek and Roman Worlds: A New Perspective. Oxford: 156-91
Detienne, M. (1996) The Masters of Truth in Archaic Greece. New York (trans. J. Lloyd)
Detienne, M. and J. P. Vernant (1991) Cunning Intelligence in Greek Culture and Society. Chicago (trans. J. Lloyd)
Warren, J. (2007) Presocratics. London.