CLU22124 Roman History: The Roman Empire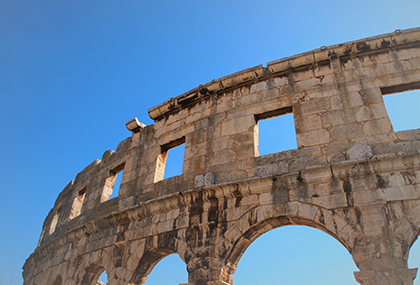 This module focuses on the Roman Empire from the first to early third centuries AD. In this period the hegemony of the city of Rome grew, spreading over almost two million square miles: a vast territory encompassing almost all of modern Europe and also north Africa, Egypt, and the near east. This course traces the evolution of this political unit and explores the consequences for those who lived under its control. In what ways did the inhabitants of the empire become 'Roman'? What were the benefits and drawbacks of inclusion? How did the systems of governance work? What held things together, both practically and ideologically? We will also discuss shifts in modern approaches, from the glorification of the Roman state to more critical post-colonial approaches to imperial rule.
Module Organiser:
Duration:
Contact Hours:

16 (11 lectures, 4 seminars, 2 group discussion sessions)

Weighting:
Assessment:

30% coursework (written assignment), 70% written examination

Course Open To:

Classics, Ancient History and Archaeology; TJH Ancient History and Archaeology; Columbia Dual Degree; Ancient and Medieval History and Culture; Visiting; Open Module
Learning Outcomes
Upon the successful completion of this module students should be able to:
Demonstrate sound knowledge of the history, geography, and culture of the Roman imperial world.
Analyse critically the primary textual sources relevant to this module.
Identify and contextualise relevant forms of non-textual evidence (inscriptions, coins, archaeological material), and integrate them with textual sources.
Evaluate the major theoretical approaches, debates, and scholarship relevant to the module topic.
Discuss the above, both orally and in writing, in a clear and scholarly manner.
Work effectively in small groups.