CLU34382/CLU44382 Plutarch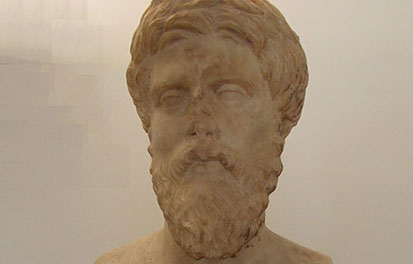 This module examines the Life of Demetrius, a Macedonian king of the late fourth and early third centuries BC, by the second century AD Greek writer, Plutarch of Chaeronea. Plutarch's most famous work is the Paralleloi Bioi, parallel lives of famous Greeks and Romans. Due to the vast nature of the Lives, modern scholarship tends to study each life individually. Plutarch's Antony was published in the Cambridge 'Green and Yellow' series but the parallel life, the Demetrius, has yet to receive a full critical edition and commentary.
Module Organiser:
Duration:
Contact Hours:

CL3063: 33 (one 2-hour class and one 1-hour language lab per week); CL4063: 22 (one 2-hour class per week)

Weighting:
Assessment:

Continuous assessment and exam.
Learning Outcomes
On successful conclusion of this module, students should be able to demonstrate:
Ability to read and analyse the prescribed texts in Greek.
Sophisticated awareness of the style and scope of Plutarch's work and its application in the Demetrius.
Ability to examine, engage with, and integrate different types of source material in the original language.
Awareness of the contribution of Plutarch's work to this development of Greek literature.
Sophisticated awareness of genre in antiquity, in particular the relationship between history and biography.
Ability to develop the skills necessary for studying ancient history.
Prescribed Edition
Perrin, B., Plutarch's Lives Vol. IX: Demetrius and Antony, Pyrrhus and Caius Marius (Cambridge, Mass., 1920) [Loeb Classical Library]
Introductory Bibliography
Beck, M., A Companion to Plutarch (Chichester, 2014)
Beck, M., Plutarch. Understanding Classics (London, 2017)
Beneker, J., The Passionate Statesman: Eros and Politics in Plutarch's Lives
(Oxford, 2012)
Duff, T., Plutarch's Lives: Exploring Virtue and Vice (Oxford, 1999)
Jones, C.P., Plutarch and Rome (Oxford, 1971)
Mossman, J. (ed.), Plutarch and his Intellectual World (London, 1997)
Pelling, C., Plutarch and History (Swansea, 2002)
Stadter, P., Plutarch and his Roman Readers (Oxford, 2014)
Stadter, P. (ed.), Plutarch and the Historical Tradition (London, 1992)
Waterfield, R. & Erskine, A., Plutarch's Hellenistic Lives (Oxford, 2016)