CLU11120 Greek and Roman Mythology and Religion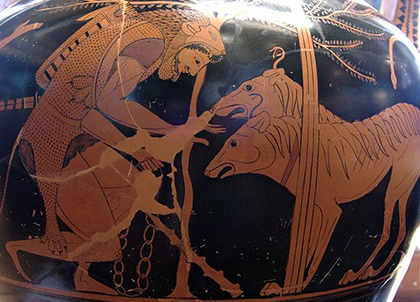 What is myth? How do myths deal with fundamental human concerns about who we are and the world we live in? What is the relationship between myth and religion? Why did the Greeks and Romans worship many gods, believe in oracles, or perform animal sacrifice? This module is an introduction to the major myths and religions of the classical world using the full range of primary source material: literary, artistic and archaeological. It explores the functions of myth within society and the various theories of myth. The module considers the nature of Greek and Roman religion in its social context, such as key elements of ritual action: sacrifice, rites of passage, festivals, as well as the diverse ancient beliefs on death and the afterlife, and the role of mystery religions.
Module Organisers:

Dr Christine Morris, Dr Suzanne O'Neill

Duration:
Contact Hours:
Weighting:
Assessment:

100% coursework (four written assignments)

Course Open To::

Classics, Ancient History and Archaeology; TJH Classical Civilisation; Columbia Dual Degree; Visiting; Open Module
Learning Outcomes
Upon the successful completion of this module students should be able to:
Identify the main characteristics and themes of classical myths.
Discuss the major theories of myth in relation to the classical material.
Show awareness of the primary sources for the study of myth and religion.
Evaluate the sources critically and understand what kinds of questions and interpretations the evidence can support
Outline the central beliefs and practices of the Greeks and Romans in their historical and cultural context.
Evaluate mythic ideas and religions on their own terms.