CLU22111 Greek History: Culture and Society in Archaic Greece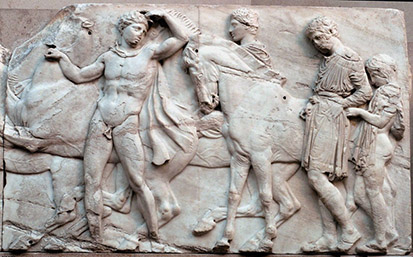 The module is a detailed study of selected topics from the Archaic period, c.750-490 BC. It will focus on the origin and development of socio-cultural phenomena in the Greek world, from South Italy to Asia Minor. Topics will include the development of new political systems such as tyranny, the origins of law and literacy, the formation of the polis, warfare and empire, as well as social issues such as the symposium and slavery.
Module Organiser:
Duration:
Contact Hours:

15 (11 lectures, 4 seminars)

Weighting:
Assessment:

100% coursework (two written assignments)

Course Open To:

Classics, Ancient History and Archaeology; TJH Ancient History and Archaeology; Columbia Dual Degree; Ancient and Medieval History and Culture; Visiting; Open Module
CLU22113 Greek History (Culture and Society in Archaic Greece) with Project: This 10-ECTS version of the module includes a substantial element of independent research on a topic to be agreed with the module coordinator.
Learning Outcomes
On successful conclusion of this module, students should be able to:
Demonstrate sound knowledge of the history and geography of the Greek world.
Analyse critically the primary textual sources relevant to the module.
Identify and contextualise relevant forms of non-textual evidence (inscriptions, coins, archaeological material), and integrate them with textual sources.
Evaluate the major theoretical approaches, debates and scholarship relevant to the module topic.
Discuss the above, both orally and in writing, in a clear and scholarly manner.
Work effectively in small groups.