CLU23112 Greek History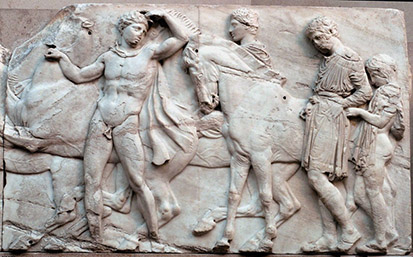 The course is a detailed study of selected topics from the major periods of Greek history, ranging in time from the development of the Greek city states, such as Athens and Sparta, to the Hellenistic kingdoms founded in the wake of Alexander. Topics will include political systems from tyranny to democracy, the development of law and literacy, war and empire, and social issues such as slavery.
Module Organiser:
Duration:
Contact Hours:
Weighting:
Assessment:

Continuous assessment and exam.
Introductory Reading
Dillon, M. and Garland, L., Ancient Greece: Social and historical documents from archaic times to the death of Socrates, Second Edition, London, 1994
Robinson, E., Ancient Greek Democracy: readings and sources, 2003.
Rhodes, P. J., The Greek City States, London, 1988.
Fornara, C. W., Archaic times to the end of the Peloponnesian War, Second Edition, 1983.
Harding, P., From the end of the Peloponnesian War to the Battle of Ipsus, 1985.
Crawford, M. and Whitehead, D., Archaic and Classical Greece, 1983.
Brosius, M., The Persian Empire from Cyrus II to Artaxerxes I, 2000.
Austin, M. M., The Hellenistic world from Alexander to the Roman conquest, 1981.
Austin, M., and Vidal-Naquet, P., Economic and Social History of Ancient Greece 1972.
Hornblower, S., The Greek World, 479-323 BC, 4th edition, 2011.
Rhodes, P. J., A History of the Classical Greek World, 2nd edition, 2010.
Marincola, J., Greek Historians, 2001.
Learning Outcomes
On successful conclusion of this module, students should be able to:
Demonstrate sound knowledge of the history and geography of the Greek world.
Analyse critically, the primary textual sources relevant to the module.
Identify and contextualise relevant forms of non-textual evidence (inscriptions, coins, archaeological material), and integrate them with textual sources.
Evaluate the major theoretical approaches, debates and scholarship relevant to the module topic.
Discuss the above, both orally and in writing, in a clear and scholarly manner.
Work effectively in small groups.