CL1235 Greek Drama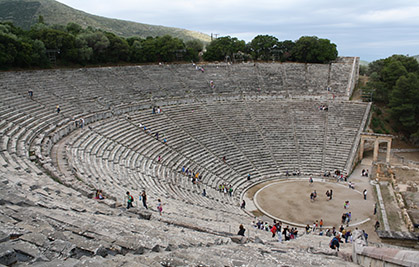 This module provides an introduction to Classical Athenian drama. You will study a play each by Euripides and Sophocles in Greek and other plays by Aeschylus, Sophocles, Euripides, Aristophanes and Menander in translation, as well as other relevant texts. Discussion topics include the divine, fate and responsibility; the origins of drama; Aristotle's analysis of tragedy in the
Poetics
; performance aspects; the function of drama in the context of religious festivals and the democratic city-state; drama as source of historical and cultural information.
Module Organiser:
Duration:
Contact Hours:

49 (16 lectures, 22 reading classes and 11 language labs)

Weighting:
Assessment:

50% continuous assessment (two written assignments), 50% final examination
Learning Outcomes
Upon the successful completion of this module students should be able to demonstrate:
critically discuss the content and major themes of the prescribed texts
analyse key extracts from and aspects of the prescribed texts
situate the texts in their historical and performance contexts and comment on the relevance of these contexts for their interpretation
outline the origins and history of Athenian tragedy and comedy as genres and their reception from antiquity to the present
translate and analyse the language and style of the two tragedies studied in Greek
Introductory Reading
Mastronarde, Donald, Euripides, Medea (Cambridge 2002)
Griffith, Mark, Sophocles, Antigone (Cambridge 1999)
Storey, I.C. and Allan, A. A Guide to Ancient Greek Drama, 2nd edition (Blackwell 2014).
Scodel, R., An Introduction to Greek Tragedy (Cambridge 2010).
Sommerstein, A.H. Greek Drama and Dramatists (Routledge 2002).
Gregory, Justina (ed.). A Companion to Greek Tragedy (Blackwell 2005).
Fontaine, Michael and Adele C. Scafuro (eds.). The Oxford Handbook of Greek and Roman Comedy (New York and Oxford 2014).