CLU22341 Greek Drama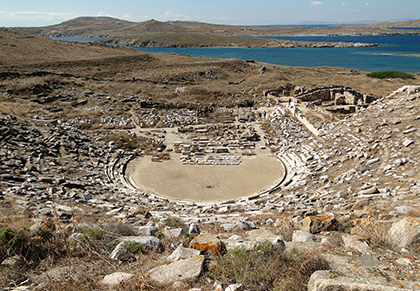 This module provides an introduction to Classical Athenian drama. You will study a play by Euripides or Sophocles in Greek and other plays and relevant texts in translation. Module topics include the divine, fate and responsibility; the origins of drama; Aristotle's analysis of tragedy in the Poetics; performance aspects; the function of drama in the context of religious festivals and the democratic city-state; drama as source of historical and cultural information.
Module Organiser:
Duration:
Contact Hours:

22 (two reading classes per week)

Weighting:
Assessment:

100% coursework (two written assignments)

Course Open To:

Classics, Ancient History and Archaeology; TJH Greek; Columbia Dual Degree; Visiting
CLU22343 Greek Drama with Project
This 10-ECTS version of the module includes a substantial element of independent research on a topic/text to be agreed with the module coordinator.
Learning Outcomes
Upon the successful completion of this module students should be able to:
Analyse the language and style of the tragedy studied in Greek
Translate and analyse the language of unseen Greek passages of similar difficulty as the tragedy studied in Greek
Critically discuss the content, structure and major themes of the plays studied in translation
Situate all studied plays in their historical and performance contexts and comment on the relevance of these contexts for their interpretation