CLU33218 Greek Erotic Poetry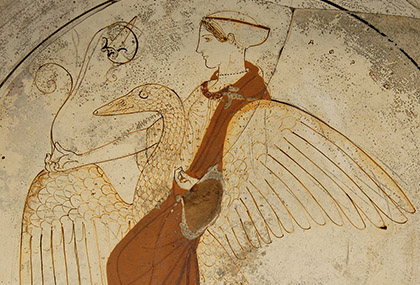 Desire (eros, Aphroditê) has always been a favourite theme in poetry, history, philosophy, rhetoric and other genres in the ancient Greek world. It was particularly (although not uniquely) prominent in poetry, which was often forceful and direct, sometimes explicit. It was also extremely sophisticated in its literary, poetic, linguistic and historical sensibilities, keen in its consideration of human behaviour and emotion, and, as we shall learn in this course, fundamentally embedded in its social, cultural, and indeed political contexts as a powerful, dangerous, but likewise productive force. In this module we will read selected poems (in English translation) from various ancient Greek authors. Through these poems we shall have an opportunity to discuss general issues of erotics, poetics, gender, sexuality, society, history, politics, and culture in the ancient Greek world. The module will present and deploy a broad range of contemporary critical methods and approaches.
Module Organisers:
Duration:
Contact Hours:

27 (22 lectures and 5 Seminars)

Weighting:
Assessment:

100% coursework (two written assignments)

Course Open To:

Classics, Ancient History and Archaeology; TJH Classical Civilisation; Columbia Dual Degree; Ancient and Medieval History and Culture; Visiting; Open Module
Learning Outcomes
On successful conclusion of this module, students should be able to:
Examine and critically analyse ancient Greek lyric texts and authors writing about Eros and desire.
Discuss the key poetic, historical, social, religious and political themes and questions pertinent to the texts, in light of close readings of the texts and the scholarly debates, ancient and modern, which surround them.
Recognise and analyse some of the key general problems of genre, gender, voice, representation and identity associated with the texts and the scholarly literature.
Work effectively in small groups.
Effectively use e-learning tools and electronic resources to support language study.