CL4004 Entertainment and Spectacle in the Greek and Roman Worlds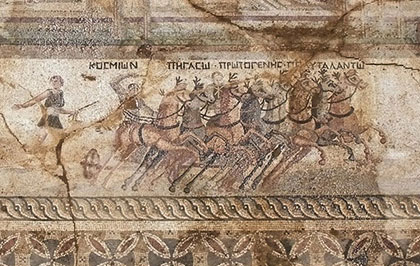 Entertainment is a fundamental feature of our modern society, but how did it work in the Greek and Roman periods? Was it 'fun' or were there other important factors in play? This module explores the nature, context and social importance of the different forms of public entertainment and spectacle in the Greek and Roman worlds, and examines how and why such displays changed in significance over time. A primarily archaeological approach is taken and there will be close analysis of the physical evidence. Textual and epigraphic sources will be integrated so that a broad perspective can be appreciated. On a more light-hearted note, by the end of this module students should also be able to spot the mistakes in films such as Gladiator, Spartacus and Ben Hur!
Module Organiser:
Duration:
Contact Hours:

44 hours, 22 x 2 hour seminar

Weighting:
Assessment:

65% continuous assessment (three written assignments), 35% final examination
Learning Outcomes
a clear knowledge and understanding of the module content, including relevant theoretical approaches
spatial and visual skills for the analysis of architecture and images
skills to evaluate primary sources (both archaeological and documentary), to use them in an integrated way, and to discuss relevant modern interpretations
the ability to apply their  knowledge and these skills objectively and flexibly to key issues and to express your ideas in a coherent and thoughtful way.
Introductory Reading
P. Christesen and D. Kyle (ed), A Companion to Sport and Spectacle Greek and Roman Antiquity, Oxford 2014
D. Kyle, Sport and Spectacle in the Ancient World, Oxford 2007