CLU13441/CLU24441 Catullus and Cicero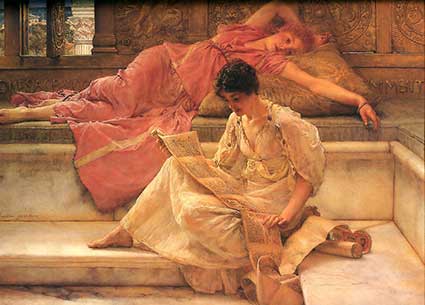 The love-poet Catullus and the statesman, orator and philosopher Marcus Tullius Cicero were close contemporaries, but often display contrasting attitudes – towards love and sex, youth and maturity, public and private life, and morality in general. This module will involve close reading of selections from Catullus' poetry and of Cicero's law-court speech Pro Caelio, both as literary works in their own right and as a window on the ideals and values of the Roman elite of the first century BC.
Module Organiser:
Duration:
Contact Hours:
Weighting:

CLU13441: 5 ECTS; CLU24441: 10 ECTS

Assessment:

CLU13441: 20% continuous assessment (one written assignment), 80% final examination; CLU24441: 40% continuous assessment (two written assignments), 60% final examination
Introductory Reading
The set texts for this course are:
K. Quinn (ed.) Catullus: The Poems (2nd ed. London, 1973; repr. 1996)
A. R. Dyck (ed.), Cicero: Pro Marco Caelio (Cambridge, 2013)
Students will need to obtain their own copies, and bring them to all classes.
The following books are particularly recommended by way of introduction to the course. It is not necessary for students to obtain their own copies of these books, though they may find it useful to do so.
J.H. Gaisser, Catullus (Oxford, 2009)
A.K. Hurley, Catullus (London, 2004)
R.O.A.M. Lyne, The Latin Love Poets (Oxford, 1980), pp. 1-61
T.P. Wiseman, Catullus and his World: A Reappraisal (Cambridge, 1985), esp. pp. 54-91
Learning Outcomes
Upon successful completion of this module, students should be able to:
Apply enhanced linguistic and analytical skills and consolidated grammatical knowledge through translation and close reading of substantial verse and prose text
Comment critically on select passages from the prescribed texts, both orally and in writing
Evaluate recent critical approaches to the poetry of Catullus, to Ciceronian oratory, and to the culture and ideology of the late Roman Republic in general