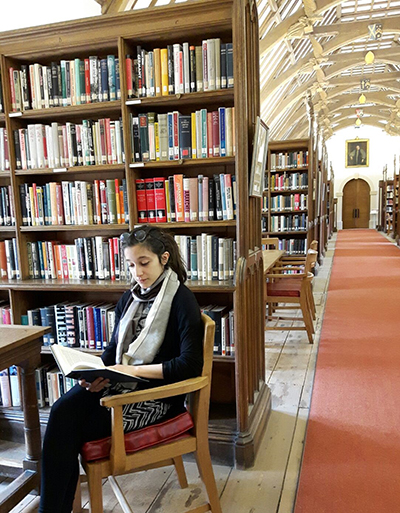 Silvia Speriani
Irish Research Council Postdoctoral Fellow
I studied Classics in Italy (University of Pavia and Scuola Normale Superiore di Pisa), in Germany (exchange scholarship in Konstanz and Mainz) and in the UK (MPhil. in Cambridge and Visiting Ph.D. scholarship in Oxford). After gaining my Ph.D. at the Scuola Normale di Pisa (2019), I taught modules in Latin language and literature at Università di Siena and worked as an external collaborator at Mondadori S.p.A. and Corriere della Sera RCS S.p.A., before joining Trinity College as an IRC Postdoctoral Fellow (2020).
My project, which builds on the results of my doctoral research, aims at publishing a monograph on the Roman reception of Telamonian Ajax, which will pose itself both as a useful instrument for understanding the processes of ancient Rome's cultural, ethical and identity redefinitions, and as a basis for the study of Ajax's "afterlife" in Western culture.
My research interests also involve the study of visual dynamics enacted in Latin literature as a reflection and manifestation of social relationships and power hierarchies. I have presented and published papers on visual dynamics in a wide range of texts, from Horace's Epistles to Pliny's Panegyric, to Petronius' Satyricon.
Selected Publications
Speriani, S. (forthcoming): "How to turn a hero into a hebes: Ajax, a comic soldier". Mnemosyne.
Speriani S. (forthcoming): "Come si guarda una finzione? Realtà e rappresentazione nel Satyricon di Petronio", Studi Italiani di Filologia Classica.
Speriani, S. 2019. "(corto)Circuiti visivi nel Panegirico di Plinio a Traiano." Maia 71.2: 304-20.
Speriani, S. 2019. "Aiace e la maschera del miles." La Biblioteca di ClassicoContemporaneo 10: 83-104. 
Speriani, S. 2018. "The Spectacle of Gazes: Seeing and Being Seen in the First Book of Horace's Epistles." The Classical Journal 113.4: 428-52. 
Contact Details
Department of Classics
Trinity College
Dublin 2
alternative email: silvia.speriani@sns.it