Legal Training for Child Protection & Welfare Practitioners (NFQ Level 9) - 5 ECTS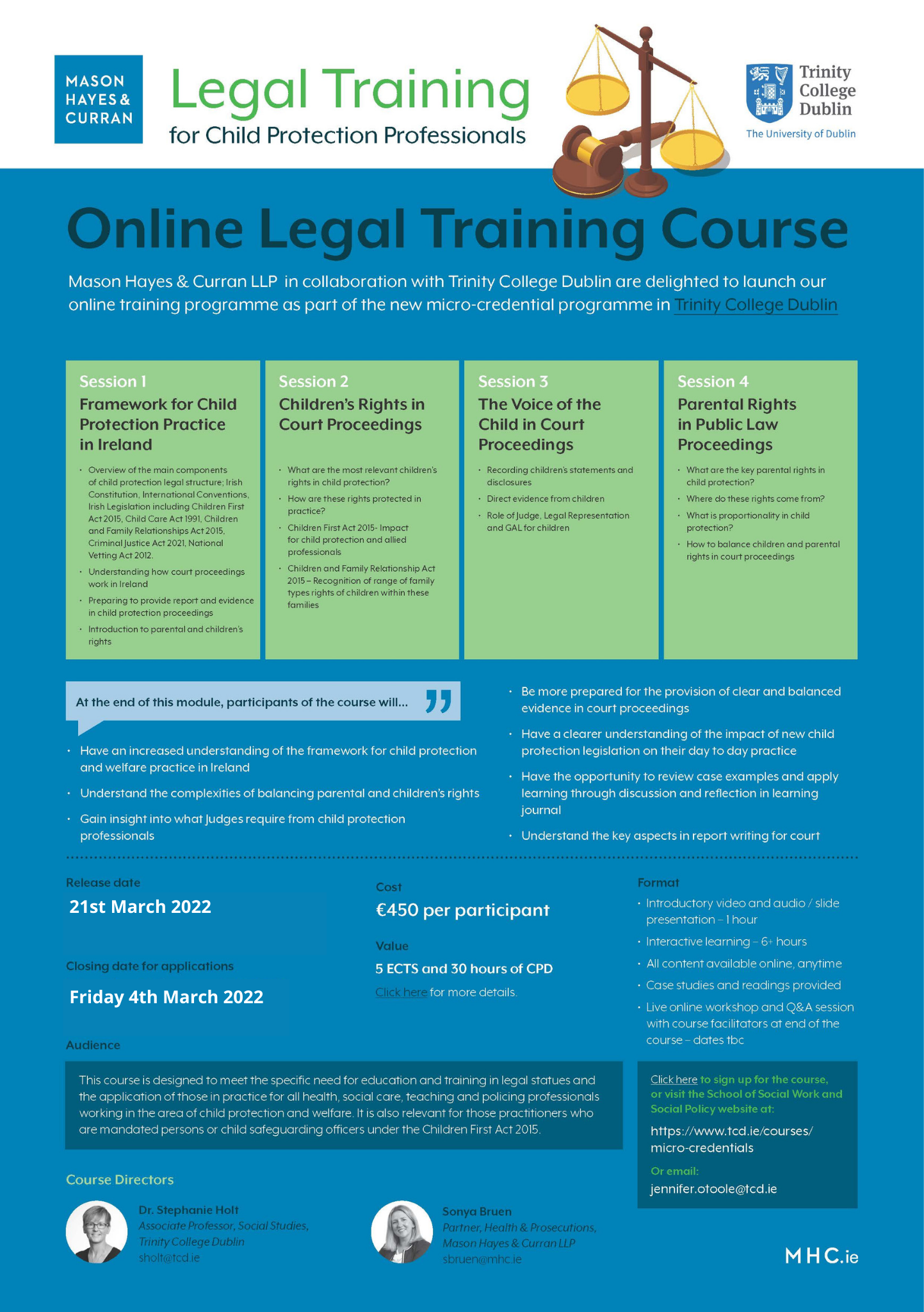 Introduction
This innovative micro-credential offered in conjunction to Mason, Hayes and Curran, is designed to meet the specific need for education and training in legal statues and the application of those in practice for all health, social care and policing professionals working in the area of child protection and welfare.
This MC is offered to a wide range of health, social care and policing professionals working in the area of child protection and welfare. Additionally, it is of relevance to a range of other front-line practitioners engaged in child protection and welfare work, include those working in the domestic violence sector and HSE employees in the disability and primary care sector.
Finally, the area of child protection and welfare is a key priority for work-force development in the public sector and across civil society in Ireland. This responsive MC will therefore be relevant to a broader range of professionals up-skilling in this subject.
Micro-Credential Outline
We wanted to ensure that this micro-credential was flexible in its mode of delivery and therefore it will be delivered fully online, with four sessions delivered weekly within an 8-week period. As it is industry focused it is important that its agile delivery meets the demand within this busy professional sector for flexible learning, at the learners pace and in their own time.
Learning materials are released each Monday and can be accessed by participants at a time convenient to them. These materials include videos, case examples, case law and topics for consideration / discussion. An additional four weeks for completion of the assessed component is allowed.
The course includes four sessions:
1.Legal Framework for Child Protection Practice in Ireland
2.Children's Rights
3.The Voice of the Child in Court Proceedings
4.Fair Procedures and Parental Rights
Fees
The fees for this micro-credential are €450
Course Start Date and Duration
Applications close on February 28, 2022 with a start date of March 21, 2022. The course runs for 4 weeks online.
Entry requirement and how to apply
Those wishing to apply must hold a NFQ level 8 qualification.
Applications can be made here
*Please note the micro-credential will not proceed if less than 10 learners are registered.
Contact
Further enquires can be directed to Jennifer O'Toole