Alumni Interviews
Míde Ní Ghríofa
B.A. (2018) TSM Economics and German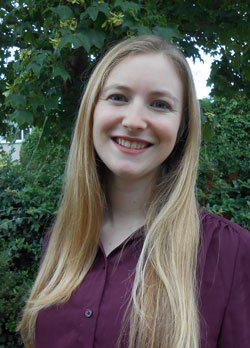 What did you enjoy the most about Trinity?
I loved the sense of opportunity I felt as soon as I arrived. My degree in TSM Economics and German opened my mind up to diverse and new ideas and the people I met, both staff and students, broadened my perspective. Going along to (and sometimes participating in!) talks, debates and plays between lectures felt so exciting. I loved the city-centre campus, the sense of community within, and the effort to make it inclusive and welcoming.

Tell us a bit more about the internship you undertook at the OECD in Paris
I interned in the Directorate for Employment, Labour and Social Affairs with a team working on the OECD tax-benefit model. This facilitates the cross-country comparison of 40 tax-benefit systems and can help analyse benefit adequacy, work incentives and welfare reforms. I gained an active insight into policymaking and international organisations and also volunteered as Co-President of the Intern Circle, to help improve the intern experience, conditions and pay - more needs to be done to ensure equal access for disadvantaged students.

What are your plans for the future?
I am keen to pursue a career in research in public policy and development spheres. To this end, I am excited to be starting the MSc in Economics for Development at the University of Oxford this autumn. The programme provides the necessary economic foundations but applied to development with a policy focus. I have also been extremely fortunate to be awarded both departmental funding from Oxford and a European Central Bank Scholarship for Women in Economics for this.

What role did Trinity play in getting you where you are today?
I have always felt supported by the academic community and their genuine interest in helping students, whether by setting up partnerships such as the TCD-OECD link, or putting you in touch with alumni who gladly offer their insights. They were supportive of students sitting schols, which transformed my college experience and the Economics Department gave me the chance to serve as 2017 Editor of the Student Economic Review, another formative experience. I hope many more enjoy the same opportunities and that equal access to the TCD experience will continue to improve.