BESS Course Structure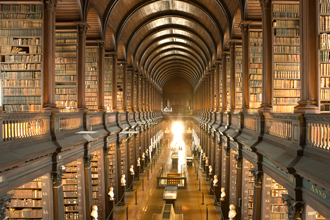 The BESS programme offers students a broad-based education in Business, Economics, Political Science and Sociology in the first year and then in the second year asks students to consider what the best combination of disciplines and modules would be for them.
Junior Freshman (First Year)
In the universal first year students are introduced to a wide range of subjects giving them the opportunity to explore new interests without committing to a particular area at this early stage. Lectures are complemented by smaller tutorial groups in which students work throughout the year.
Senior Freshman (Second Year)
Students choose to study one or two or three of the BESS disciplines, Business, Economics, Political Science and Sociology. Students are also free to choose from a range of approved modules or even from within the Trinity Elective subjects.
Junior Sophister (Third Year)
Students begin to specialise in depth in one or two disciplines, selecting from an increased number of diverse and specialised modules. In third year, many students have the opportunity to study abroad at distinguished universities around the world. Students may also apply for the H.E.C. Paris Double Degree Programme no later than 31st January of their Junior Sophister year. The Junior Sophister year contributes 30% towards the overall Moderatorship degree.
Senior Sophister (Fourth Year)
Students now focus on the research based development of their core topics as they prepare for their final degree grade. Students will have the opportunity to write a Capstone Project which provides an excellent opportunity to position themselves for a career in a specific sector or for postgraduate study. The Senior Sophister year contributes 70% towards the overall Moderatorship degree.
BESS Programme Architecture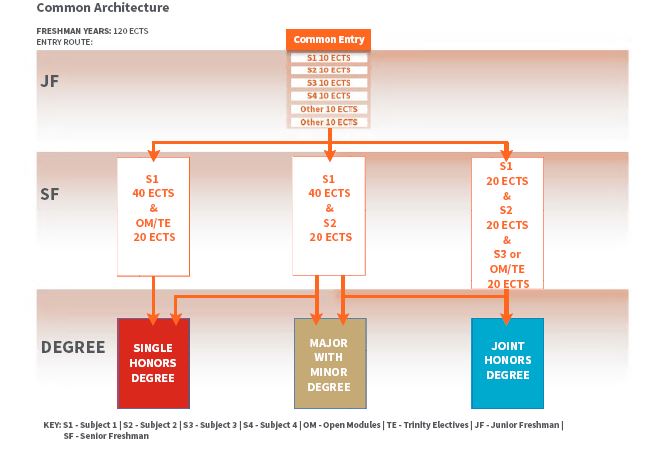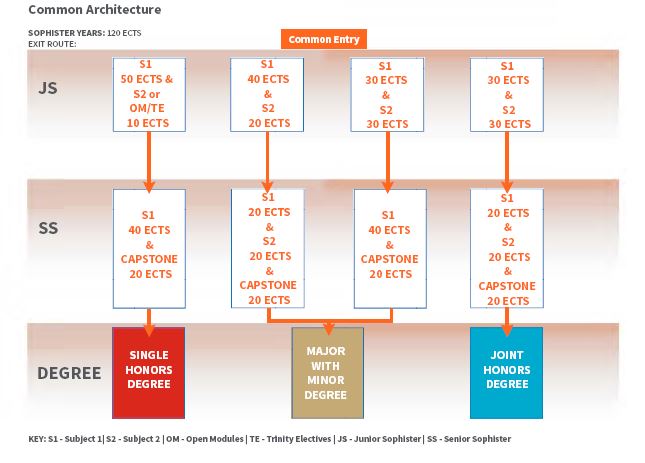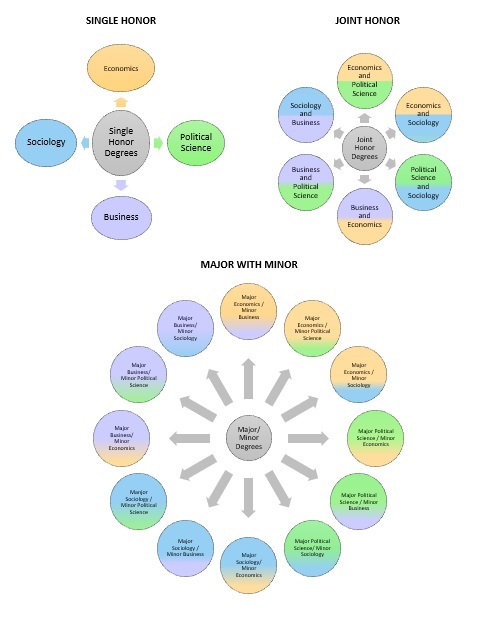 BESS Regulations
Details regarding important BESS regulations are outlined below and in the BESS Handbook. For details regarding general College Regulations please see the College Calendar.
Degree Pathway/Module Choices
In the Junior Fresh year, students will take all four disciplines in BESS - Business, Economics, Sociology, Political Science (50 ECT credits), with the remaining 10 credits to be chosen from within Law, Language (Irish, French, Spanish, German, Polish, Russian), Social Policy etc.
When BESS students move into the Senior Fresh year, it is then they choose to follow a pathway in Single Honor, or Joint Honor, or Major with Minor, though it is possible to hold open, through specific module selection, the opportunity to leave definitive exit route selection until the Junior Sophister year. It is very important that students are aware of the regulations in relation to module choices and degree pathways, all of which can be found in the BESS Handbook.
Once the pathway decision has been finalised in the Senior Fresh, or Junior Sophister year, there is no further ability to change. The reason for this is that each degree path requires the student to take required modules to fulfil the requirements of that degree. BESS does offer a lot of choice within modules each year but unfortunately it is not possible to gain a degree without the required modules. In some cases student can opt to repeat the year (remember the fee issue though) if they really wish to change their degree path.
Transfers into BESS
Due to the popularity of the BESS programme, the programme is currently not in a position to facilitate transfer requests into its programme. Information regulations governing transfers are available on the following links: