Incoming Visiting & Exchange Students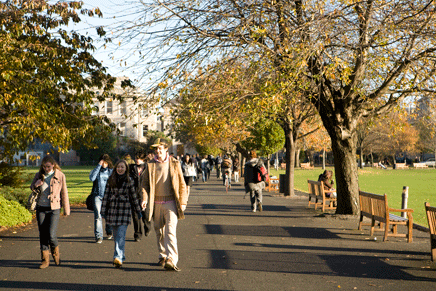 Each year we are delighted to welcome visiting and exchange students from around the world who come to Trinity to study Business, Economics, Political Science and Sociology through the BESS programme. Whether you are here for a single term, or an entire academic year, we hope that you will have an exciting and enriching educational experience at Trinity. There are a number of useful supports and services available to help smooth your transition into life at Trinity including:
The BESS Disciplines
The unique feature of the BESS programme, unlike many programme around the world, is that the student is allowed to choose their modules (within the agreement they have with their own universities and also with the necessary permission from the Trinity Exchange and Visiting Student Coordinator and in some cases the lecturer).
There is useful information for incoming exchange and visiting students on the four BESS discipline websites - Business, Economics, Political Science and Sociology. It is recommended that students review this content before contacting the Exchange and Visiting Student Coordinators in relation to the modules they would like to study while there are here at Trinity.
BESS Buddy System
BESS students, many who have studied abroad themselves, have set up a buddy system to help you feel at home and to make your stay in Ireland more enjoyable! Incoming visiting and exchange students, in the BESS disciplines, are assigned a buddy - someone you can bounce ideas off and who can help with your questions about what to expect at Trinity, subject choices, clubs and societies and any other concerns one may have.
The buddies also organise a series of events such as nights out in Dublin, cultural trips to the cinema, museums and theatre and at least one weekend trip each term.
Exchange and Visiting Student Coordinators
Please visit the Study Abroad Contact Us section to find details for Exchange and Visiting Student Coordinators who can assist you with queries about studying Business, Economics, Political Science or Sociology.
The Trinity College Campus Map website may help you locate these offices.