Grattan Scholars Alumni
With graduates of the programme now pursuing careers in academia and policy making – at leading institutions such as Oxford University, the International Monetary Fund and the Central Bank of Ireland — they are fulfilling the vision of the programme to shape thought leaders for society's future.
Katharina Bergant - Financial Globalisation
"After two extremely enriching research experiences at institutions (Central Bank of Ireland in 2016-17 and the European Central Bank in 2017-18), I am currently spending the 2018-19 academic year at the Harvard Kennedy School as a research fellow under the supervision of leading international macroeconomist Professor Carmen Reinhart. This would not be possible without the generous support of the Grattan Scholarship."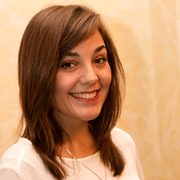 Katharina joined the Economics PhD programme as a Grattan Scholar in 2015 to undertake research which will advance the understanding of the topic of 'Financial Globalisation.' Some of the concrete research questions she will approach concern the determinants of global imbalances and the macroeconomic effects of capital flows. Analysing fiscal and monetary policies in current and past crises will be crucial in her policy orientated research.
Her most recent research focuses on the application of microdata in international financial economics which she uses to analyse the determinants international capital flows and the role of valuation effects. One of Katharina's papers titled "International capital flows at the security level - evidence from the ECB's asset purchase programme" recently received the Best Paper Award from the European Capital Markets Institute." Her research is being supervised by Agustín Bénétrix, Assistant Professor in the Department of Economics and Philip Lane, Whately Professor of Political Economy.
Before starting her PhD Katharina undertook a Masters in Economics at Trinity College and obtained her undergraduate degree at the University of Innsbruck in Austria.
Egle Gusciute - Anti-immigration attitudes and discriminatory behaviour in Irish and European contexts
"My research examined anti-immigration sentiment in Irish and European contexts using quantitative research methods. I also conducted field with the aim of detecting the extent of discrimination towards migrants in the Irish housing market".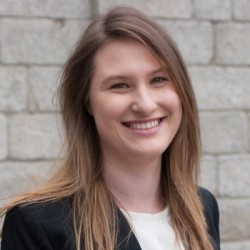 Egle joined Trinity's PhD programme as a Grattan Scholar in 2015 where she researched a dissertation entitled 'All Welcome Here? Studies on Anti-Immigration Attitudes and Discriminatory Behaviour towards Ethnic Minorities in Irish and European Contexts ' under the co-supervision of Dr. Peter Mühlau and Prof. Richard Layte. During her PhD, Egle had the opportunity to spend some time at the Danish National Centre for Social Research in Copenhagen as a visiting researcher as well as present her research at domestic and international conferences.
Prior to her PhD, Egle received a BA in European Studies in 2011 and an MPhil in International Peace Studies in 2012 both from Trinity College Dublin. She is currently employed as an Assistant Professor in Sociology at the University College Dublin.
Gayane Vardanyan - The Age of Mass Migration and the Impacts of Migration
"Parallel to the submission of my PhD thesis I started Teaching Fellowship in Economics Department in September 2019. I have been lecturing Economics to first-year undergraduate students in Trinity Business School. In December 2019 I successfully passed my viva.
My current work in progress is my third PhD paper: "Return Migration Decisions: Evidence from Irish Mass Migration at the turn of the twentieth century", which identifies the lower bound of Irish return migration rates and examines their selectivity based on Irish Census records and Ellis Island Administrative Records. Currently I am working on extending the paper in order to investigate the potential channels of the return. The analysis of this part of the paper will be based on US Census records on Irish population.
I am also in the process of submitting my research papers for publications to various journals"
.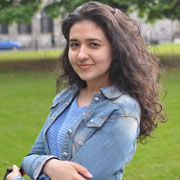 Gayane joined the Economics PhD programme to undertake research on 'The Age of Mass Migration and the Impacts of Migration' under the supervision of Associate Professor in Economics Gaia Narciso. The research strategy relied on the matching of different historical data sources, with the aim of constructing and exploring a unique dataset which combined individual socio-economic characteristics with migratory behaviour. Using the combined information about the Irish migrants to the US, the project was able to identify the basic characteristics of Irish migrants during the Age of Mass Migration.
Before joining Trinity as a Grattan Scholar, Gayane completed an MSc in Economics at the University of Bern. Prior to this she undertook a Bachelor of Finance at the Armenian State University of Economics.
https://sites.google.com/tcd.ie/gayanevardanyan/
Margaryta Klymak - A New Model for Development Aid: the Role of the Private Sector
"During my PhD I had incredible opportunities to explore the academia and to work with some of the best development economists. I collaborated with United Nations researchers through a PhD internship at the UN's development economics research centre in Helsinki. I also consulted the World Bank on a randomised control trial held in Senegal. In addition, I was involved in projects on developing countries such as Ethiopia, Kenya, Mexico and Uganda."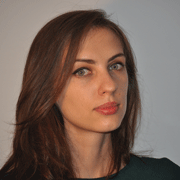 Margaryta's research, which was undertaken under the supervision of Carol Newman, Professor in Economics and Gaia Narciso, Associate Professor in Economics, examined the interaction between firms in developing countries as well as how they can be affected by international trade competition. Her first paper investigated how naming and shaming of child and forced labour in developing countries can affect the international trade. Further research examined the effects of trade liberalisation on the behaviour of firms in Vietnam. During her PhD studies, her research output appeared in over fifteen conferences in Europe and further afield. She was also the sole tutor for the Department of Economics flagship undergraduate Econometrics course, for which she received the Dermot McAleese Teaching Award.
Margaryta earned an MSc in Economics from the University of Edinburgh and double first class honours in a BSc in Business Economics and a BSc in Management from Kyiv Polytechnic Institute, Ukraine.
Following her PhD, Margaryta joined the University of Oxford's Department of International Development as a Lecturer in Development Economics.
Yannick Timmer - The Global Financial System
"During my PhD studies, I had fantastic experiences that would not have been possible without the prestigious Grattan scholarship. My first PhD paper on the "Cyclical Investment Behaviour across Financial Institutions" was accepted for publication at the Journal of Financial Economics. I was also a summer intern at the IMF, where I worked on the interaction between financial frictions and the recent productivity slowdown. I also had the chance to spend time as a visiting PhD student at Princeton University, where I was working with leading scholars in the field of Financial Economics."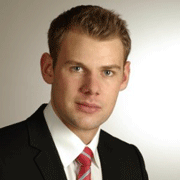 Before starting his PhD in Economics, Yannick undertook a Masters in Economics at Trinity College Dublin and obtained his undergraduate degree from the University of Dusseldorf.
Yannick joined the Department of Economics as Grattan Scholar in 2014. His research, which was supervised by Philip Lane, Whately Professor of Political Economy and Paul Scanlon, Assistant Professor in Economics, concentrated on the empirical analysis of the interaction between capital markets and financial stability. During his PhD studies, Yannick was a visiting researcher at the Deutsche Bundesbank, a consultant to the European Systemic Risk Board and a summer intern at the International Monetary Fund (IMF). His first paper was accepted for publication at the Journal of Financial Economics. His second paper, which was published as an IMF working paper, was widely covered in media outlets including Bloomberg and the Wall Street Journal.
Following his PhD, Yannick secured a place on IMF's Economist Program (EP) in Washington DC where he will gain exposure to a cross-section of the Fund's work and the opportunity to apply his research and analysis to policy work that impacts the Fund's 189 member countries.
Lisa Keenan – The Underrepresentation of Women in Political Life: the Case of the Republic of Ireland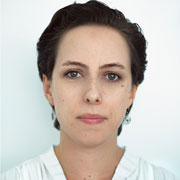 "My research investigated the experience of women in Irish politics. It examined potential sites of resistance to women's participation in political life, during electoral campaigns, at the ballot box, and after their election to Dáil Éireann."
Lisa joined Trinity's PhD programme as a Grattan Scholar in 2013 where she researched a dissertation entitled 'The underrepresentation of women in political life: the case of the Republic of Ireland' under the supervision of Gail McElroy, Professor of Political Science and Head of the School of Social Sciences and Philosophy. She co-authored a paper with Prof McElroy entitled 'Who supports gender quotas in Ireland?' which was published in IPS, the journal of the Political Studies Association of Ireland. During her studies, Lisa had the opportunity to present her research at a range of European conferences and workshops.
Lisa received a BA in Economics and Sociology in 2011 and an MLitt in Economics in 2013 both from Trinity College. She received her thesis in 2018 and is currently employed as a Teaching Fellow in Trinity's Department of Political Science.
Katarzyna Kozien - Types of Return Migrants and their Reintegration Patterns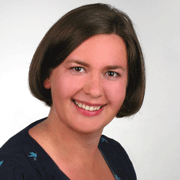 "My research focused on the consequences of Polish return migration on their life trajectories. This involved analysing the differences between migrants who stayed in the country of migration and those who returned to their country of origin in order to determine possible reasons behind their decisions."
Katarzyna's research was co-supervised by Elaine Moriarty and Peter Mühlau, Assistant Professors in the Department of Sociology at Trinity College Dublin. During the course of her studies, Katarzyna was a Teaching Assistant for the Social Movements and Researching Society modules.
Before studying at Trinity, Katarzyna worked in market research companies in Germany, Ireland and Poland. She also worked in the Polish Statistical Office in Krakow. Katarzyna holds an MA in Sociology from Jagiellonian University (Krakow, Poland) and also completed a Postgraduate Certificate in Public Relations at Tischner University (Krakow, Poland).
Alan Walsh - Synergies from Geographic Clustering of Creative Workers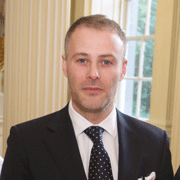 "The aim of my research was to explore why some cities developed as intellectual hubs and produced more eminent thinkers in Western philosophy than others and to try to quantify what impact coming into physical contact with these locations had on their artistic output."
Alan's research topic was 'Synergies from Geographic Clustering of Creative Workers' under the supervision of John O'Hagan, Professor of Economics. This work led to the publication, with his supervisor, of a refereed journal article in April 2017, entitled 'Historical Migration and Geographic Clustering of prominent Western philosophers', in the Springer (Berlin) publication, Homo Oeconomicus: Journal of Behavioral and Institutional Economics.
Alan received a BA in PPES (single honors Economics) from Trinity College, Dublin in 2012 and an MSc in Economics from the University of Edinburgh in 2013. Alan was the Teaching Assistant (TA) for Economy of Ireland module for four years, for which received the Dermot McAleese Teaching Award in 2014 and 2016 and a College Postgraduate Teaching Award in 2015. Alan was also the TA for The Economics of Public Policy and An Introduction to Social Science for the European Studies Department in 2015/2016.
Christina Kinghan - Understanding The Foundations of Micro-Enterprise Growth and Expansion: A Development Perspective
"The aim of my research was to examine potential factors outside of mainstream topics such as formal access to credit and education to discern whether these could assist firms in enterprise development. This is particularly important in a developing country context where in the absence of stable waged employment, these enterprises represent a crucial additional source of income."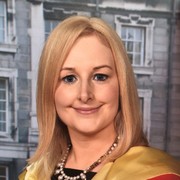 Inaugural Grattan Scholar, Christina Kinghan holds a 1.1 honors MA in Economics and Bachelor of Business Studies (BBS) from UCD and Trinity College Dublin respectively. Christina undertook research in the field of Development Economics under the supervision of Professor in Economics Carol Newman. During her PhD studies, Christina spent a semester working at the United Nations University World Institute for Development Economics. She also co-authored a chapter for a book on the Vietnamese economy which was published by Oxford University Press in 2017. In addition, she was a Teaching Assistant for the second year economics course, Economy of Ireland.
Part of her PhD focused on the importance of access to finance for households and firms in a developing country context. Since completing her PhD Christina is continuing this work in an Irish context, working in the Central Bank on projects around household access to finance in the Irish mortgage market. Christina hopes to continue her career in this area and to develop an expertise on household and SME access to credit by contributing to economic research and policy assessment in this arena.
Sara Mitchell - Synergies from Geographic Clustering of Creative Workers
"My research explored the synergies from geographic clustering of literary artists in historical UK and Ireland combining elements from cultural economics, urban economics and economic history to explore how geographic and social factors influence innovation and cultural production.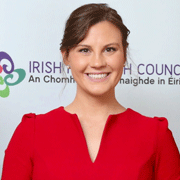 The Grattan Scholarship was fundamental to my success during my PhD, as it enabled me to tailor my PhD experience to the needs of my research project. Perhaps more importantly, the Grattan programme has established a community of interdisciplinary scholars who support and challenge one another, allowing me not only to engage with talented researchers but also to develop friendships I hope to maintain long beyond college."
Inaugural Grattan Scholar, Sara Mitchell undertook research in the field of Cultural Economics under the supervision of Professor John O'Hagan in the Department of Economics. During her studies, Sara had the opportunity to present her research at a range of specialised workshops and conferences. She was also selected as one of just three young Irish researchers to attend the 5th Lindau Nobel Laureate Meeting of Economic Sciences. Inspired by these experiences, Sara collaborated with Trinity's School of English to organise a conference on Creative Networks and Cultural Output.
After completing her PhD, Sara worked as a research associate as part of an Independent Secretariat provided by the Institute of Public Administration for the Expert Commission on the Domestic Public Water Services. She then joined Indecon International Economic Consultants as a research economist. She is now working as a postdoctoral research at TU Dortmund (Germany), where she is engaged in research and teaching at the Chair of Urban, Regional, and International Economics. She recently published an article in the July 2019 issue of the Journal of Urban Economics.