LUCIDE (EU Lifelong Learning Programme (KA2)
Languages in Urban Communities – Integration and Diversity for Europe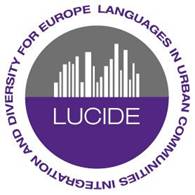 A European research project involving Trinity College Dublin has been granted funding under the EU's Lifelong Learning Programme (KA2). The LUCIDE project (2011 – 2014) is a consortium of fourteen European university and city partners with experience in researching multilingualism in urban settings, with input from two leading partner institutions in Canada (OLBI, Professor Richard Clément) and Australia (University of Melbourne, Professor Jo LoBianco). Dr Lorna Carson of the School of Linguistic, Speech and Communication Sciences will lead the consortium's research activities, which includes investigating good practice in multilingualism in key spheres of city life in each partner city, involving education, economic activity, public governance and urban space, and in areas where multilingual policy and practice may be in contradiction. The consortium aims to suggest some viable and convincing policy directions for the range of cities involved in its network where what is often described as a negative (the 'problem' of diversity) may be viewed as a solution for the future, with an impact beyond the partners and cities involved.
About LUCIDE
University partners
London School of Economics (United Kingdom)
Chernorizets Hrabar Free University of Varna (Bulgaria)
Universidad Complutense de Madrid (Spain)
Universität Hamburg (Germany)
Trinity College Dublin (Ireland)
Università degli Studi di Roma 'Foro Italico' (Italy)
Cyprus University of Technology
Universiteit Utrecht University (Netherlands)
Université de Strasbourg (France)
University of Josip Juraj Strossmayer (Croatia)
Telemarksforsking-Notodden (Telemark Educational Research) (Norway)
University of Melbourne (Australia)
Institut des langues officielles et du bilinguisme (ILOB) / Official Languages and Bilingualism Institute (OLBI) (Canada).
City partners
City partners include Sofia Development Association (Bulgaria) and the Municipality of Agioi Anargyroi-Kamatero, Athens (Greece), with the support of many other associate partners including Dublin City Council, Office for Integration.

Website: https://www.languagescompany.com/projects/lucide/
The LUCIDE project is coordinated by Lid King, the Languages Company (formerly Director of CILT/National Director for Languages in England)