Postgraduate Courses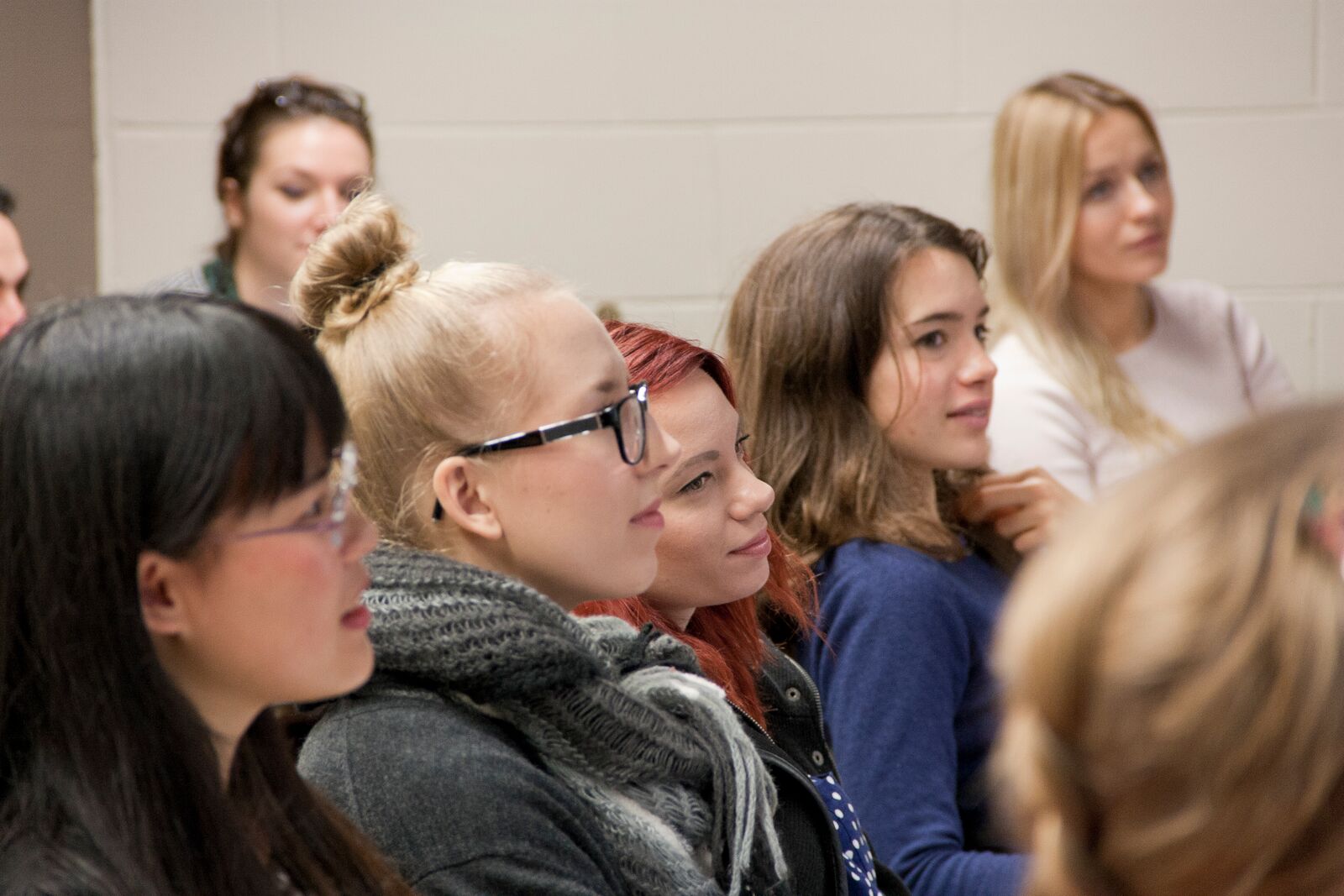 The School of Linguistic, Speech and Communication Sciences is proud of our renowned postgraduate programmes in a broad range of research areas, including Linguistics, Applied Linguistics, Sociolinguistics, English Language Teaching/TESOL, Corpora, Asian Studies, Phonetics & Speech Science, Deaf Studies and Clinical Speech & Language Studies. We offer seven Taught Postgraduate Courses as well as Ph.D. and Master's Degrees by Research.
Our cohort of postgraduate students come from all over the world, from a variety of disciplinary backgrounds. Together, we enjoy an engaging and dynamic multidisciplinary research environment in Trinity which fosters intellectual rigour, academic achievement and a sense of community. Research supervision is available within a number of areas of expertise. In addition to degrees by research, we provide the following Taught Postgraduate courses:
Professor John Saeed
, or visit our
Research pages
.
---
Scholarships & Funding
Trinity College Dublin and the China Scholarship Council affiliated with the Ministry of Education in China offer a number of scholarships to Chinese students who wish to pursue a Ph.D. at Trinity. In the past, scholarships have included a full fee-waiver from Trinity, and a stipend for living costs, airfare and health insurance, provided by the CSC.
College Postgraduate Research Studentship: Closing date 1 May 2019
The School of Linguistic, Speech and Communication Sciences offers a studentship available under the College's Postgraduate Research Studentship scheme. This studentship will pay annual tuition fees at EU or non-EU level as appropriate for a maximum of three years and an annual stipend of €6,500. A limited amount of teaching may be expected of students in receipt of the studentship. Research studentships in the School are normally awarded to incoming candidates who have been accepted to study for a Ph.D. in the School. Decisions on admission are based on a combination of an applicant's research proposal (submitted as part of the application process), previous academic record, and professional experience where relevant. Information on the College's entrance requirements, fees and awards, and other regulations can be found on the Graduate Studies website. Prospective applicants are invited to contact the School's Director of Postgraduate Teaching and Learning, Prof. John Saeed in the first instance. Applications for admission are made online. Any student who has been accepted for admission in the School can be considered for the Research Studentship. Students should indicate on the Ph.D. application form that they wish to be considered for a Research Studentship – no separate application form is needed. Applicants who wish to be considered for the 2019-20 academic year must submit an application no later than 1 May 2019.
School Postgraduate Research Studentships: Closing dates: 1 April 2020
The Department of Clinical Speech and Language Studies offers two Postgraduate Research Studentships. These studentships will pay PhD annual tuition fees at EU level for a maximum of four years (full time) or six years (part time). There are also two additional Clinical Speech and Language Studies studentships that will cover half PhD EU student fees for new PhD registrants part time or full time. A limited amount of teaching is expected of students in receipt of studentships.

Topic areas for research are as follows;
Discourse analysis
Multilingualism and Education
Language acquisition
Communication and mental health disorders across the lifespan
Dysphagia (oesophageal dysphagia; quality of life; psychosocial impact; cancer; neurogenic dysphagia)
Augmentative and Alternative Communication and complex communication needs
Communication disability in the context of global health and development
Assessment and management of voice disorders
Dysphagia in general cancer and palliative care populations
The application process involves sending (i) a copy of CV/resume, (ii) a two-page research proposal and (iii) a short statement on why the applicant wants to undertake this PhD project (iv) names and contact details of two referees. Documents should be emailed as one file to cslssec@tcd.ie with the subject heading PhD Scholarship Award. Closing date: 1st April 2020.
Taught Master's Studentship for 2019/20 (FAHSS): Closing date 1 July 2019.
We are pleased to announce a postgraduate studentship to the value of €5,000, which is made available this coming academic year to a student who enrols in one of the School's taught Master's courses. The studentship is funded by the Faculty of Arts, Humanities and Social Sciences, Trinity College Dublin. Any applicant (EU and Non-EU) to any of the School's six taught Master's courses for the coming academic year 2019/20 is eligible to apply. Applicants who are eligible to apply and wish to be considered for this studentship should submit a short personal statement (500 words maximum) by 1 July 2019. This statement should include the following: applicant's full name and TCD application number (the TCD application number is assigned by TCD when the Master's application is submitted) and an account of the reasons why they believe they should receive this studentship and how they see it would benefit them. The statement should be emailed to slscs@tcd.ie as an attached PDF document. In the subject line "FAHSS Studentship Application" should be entered. The studentship is offered on the conditions that the successful candidate: (1) registers for one of the School's six taught Master's programmes in the academic year 2019/20, and (2) has not already been awarded funding of similar or greater value. A School Sub-Committee including the Course Directors and the Director of Postgraduate Teaching and Learning will review the eligible applications. Candidates will be assessed on their full course application, including academic references, as well as their personal statement. In assessing the applications, consideration will be given to the applicant's academic merit as well as the need for, and impact of receiving the studentship. The decision as to who will receive the studentship is at the sole discretion of the School Sub-Committee.
Eoin and Cliona Murphy Scholarship in Chinese Studies 2019/20
The Eoin and Cliona Murphy Scholarships are awarded annually to candidates accepted for the M.Phil. in Chinese Studies programme. Two scholarships to the value of €3,000 are awarded. All applicants who have accepted an offer are eligible to apply for the scholarship. Please email Professor Lorna Carson (carsonle@tcd.ie) regarding the application process.
Postgraduate Student Grants
Student Universal Support Ireland (SUSI) is the grant-awarding authority in Ireland for students. Students enrolling in postgraduate courses may get financial assistance under the Student Grant Scheme with the cost of tuition fees. There are 2 ways postgraduates may qualify for assistance under the Student Grant Scheme. They may either apply for a flat rate fee contribution of €2,000, if they pass the SUSI fee contribution means test or have all their all their tuition fees paid and essential field trips (up to €6,270), if they meet the qualifying conditions for the special rate of grant for disadvantaged students. To qualify for assistance under the Student Grant Scheme you must also meet the criteria for nationality and immigration status, and residency.
Trinity Trust Travel Grant
The Executive Committee of the Trinity Trust makes funds available to the Graduate Studies Committee for allocation to graduate research students for attendance at conferences related to their research or for students who wish to carry out research abroad to supplement research already undertaken in Dublin. It is up to the student to submit their supporting documentation completed to the Office of the Dean of Graduate Studies. To be eligible for the Trinity Trust Travel Grant Scheme a student must be registered under one of the following Research degrees: M.Litt, M.Sc., Ph.D. https://www.tcd.ie/graduatestudies/students/research/
Further funding opportunities can be found at Trinity College Scholarships.