Continuing Professional Development 2021
Department of Clinical Speech and Language Studies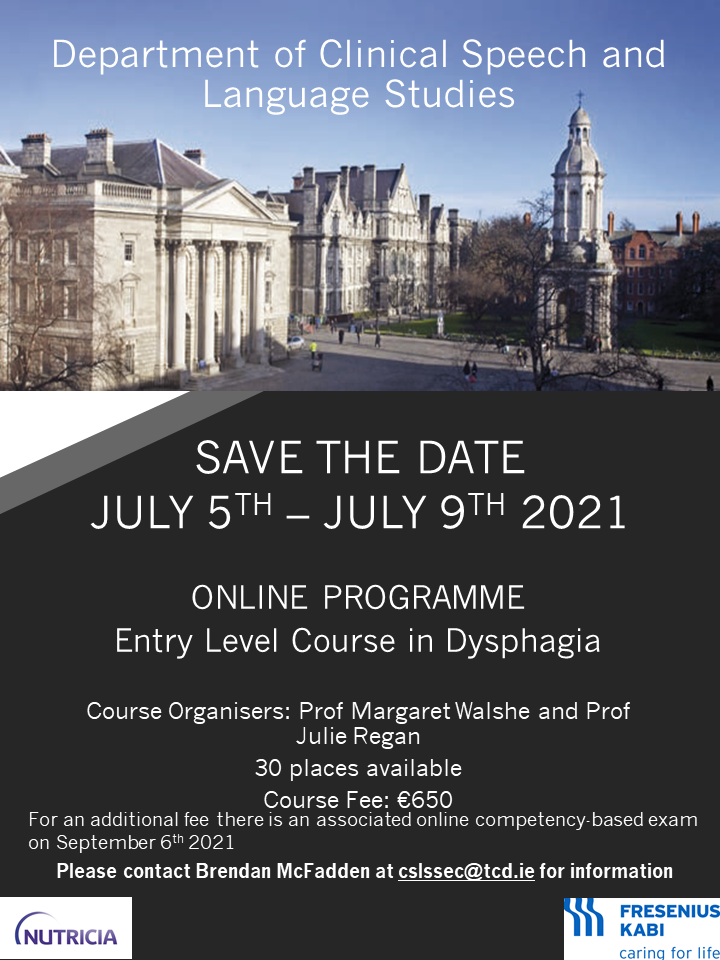 As part of registration, we are asking applicants to complete this form. This will help us form a waiting list in the event that the course is over subscribed
Advanced Dysphagia Conference - 21 and 22 October 2019

Trinity College Dublin
SAVE THE DATE!
ADVANCED DYSPHAGIA CONFERENCE
MONDAY 21ST & TUESDAY 22ND OCTOBER 2019

International guest speakers including Dr. Ashli O'Rourke MD, Associate Professor Otolaryngology- Head and Neck Surgery and Claire Mills, SLT Critical Care Lead, Leeds Hospital NHS Trust.
Conference Topics:
Dysphagia evaluation and treatment in critical care
Tracheostomy
Oesophageal dysphagia
High resolution manometry
Oesophageal screening during videofluoroscopy

Conference Venue: Robert Emmet Lecture Theatre, Arts Block, Trinity College Dublin
Conference Fee (including lunch) €250. Early bird rate €200 before Friday 13th September 2019.
SLTs who are confirmed with Dr. Duana Quigley to be taking TCD students during 2019/2020 academic year can avail of reduced fee of €175 (early bird rate) or €225 (standard fee).
Event is being kindly sponsored by Nutricia and Fresenius Kabi.
Register for conference here:
Contact Julie Regan
juregan@tcd.ie
for course information.
12 CPD credits will apply. Certificates of attendance will be provided to all registered delegates.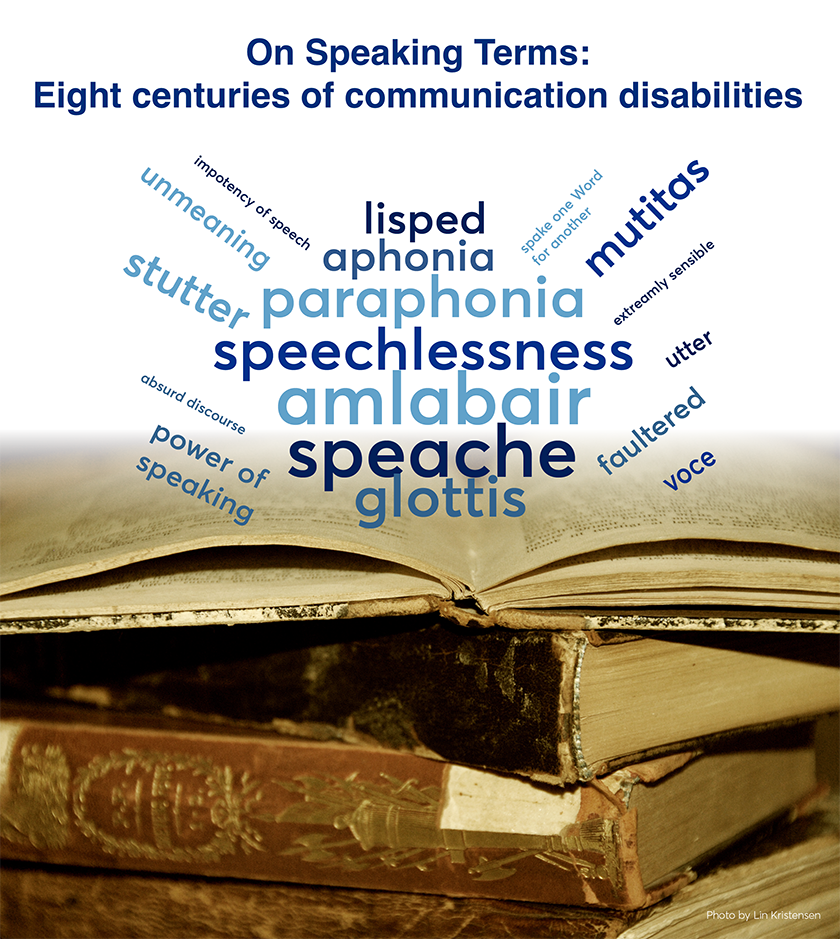 On Speaking Terms: Eight Centuries of Communication Disabilities
Friday, 6 September 2019, 2 – 4pm

Communication is at the heart of who we are as human beings and communication disorders reflect the diversity of our humanity. As the Department of Clinical Speech and Language Studies in Trinity College Dublin celebrates 50 years of educating speech and language therapists in Ireland, this exhibition provides a glimpse into eight centuries of communication disabilities. The words and phrases, when viewed within the historical and textual context, provide a window into how these disorders were problematized, understood and managed.

This seminar celebrates the launch of an exhibition in the Long Room, entitled On Speaking Terms: Eight centuries of communication disabilities
Register here.

Speakers
Professor Wendy Turner
"The Medieval Brain and Mental Health: Senses and Speech, Communication and Cognition, Imagination and Intent, Movement and Memory". Professor Wendy Turner is a medieval historian at the Augusta University in Georgia USA, researching the intersection between law and medicine in medieval England, with special attention given to disabilities.
Professor Emeritus Matti Lehtihalmes
"Knowing our past to understand the present: The relevance of historical perspectives for speech and language therapy". Matti Lehtihalmes is Professor Emeritus of speech and language therapy, Research Unit of Logopedics, University of Oulu.
Dr Caroline Jagoe, Dr Deborah Thorpe and Margaret Leahy
"On Speaking Terms: A glimpse of the texts and their interpretation from the curators of the exhibition."
This project was made possible through funding from the Research Incentive Scheme (Trinity Long Room Hub) and the TCD-Wellcome Trust ISSF in Neurohumanities.
Accessibility: Yes
Campus Location:
Trinity Long Room Hub
Room: Neill Lecture Theatre
Research Theme: Manuscript, Book and Print Culture
Event Type: Lectures and Seminars
Type of Event: One-time event
Audience: Public
Cost: Free, but registration is required
Contact Name: Dr Caroline Jagoe and Dr Deborah Thorpe
More info:
www.eventbrite.ie
_________________________________________________________________________________________________________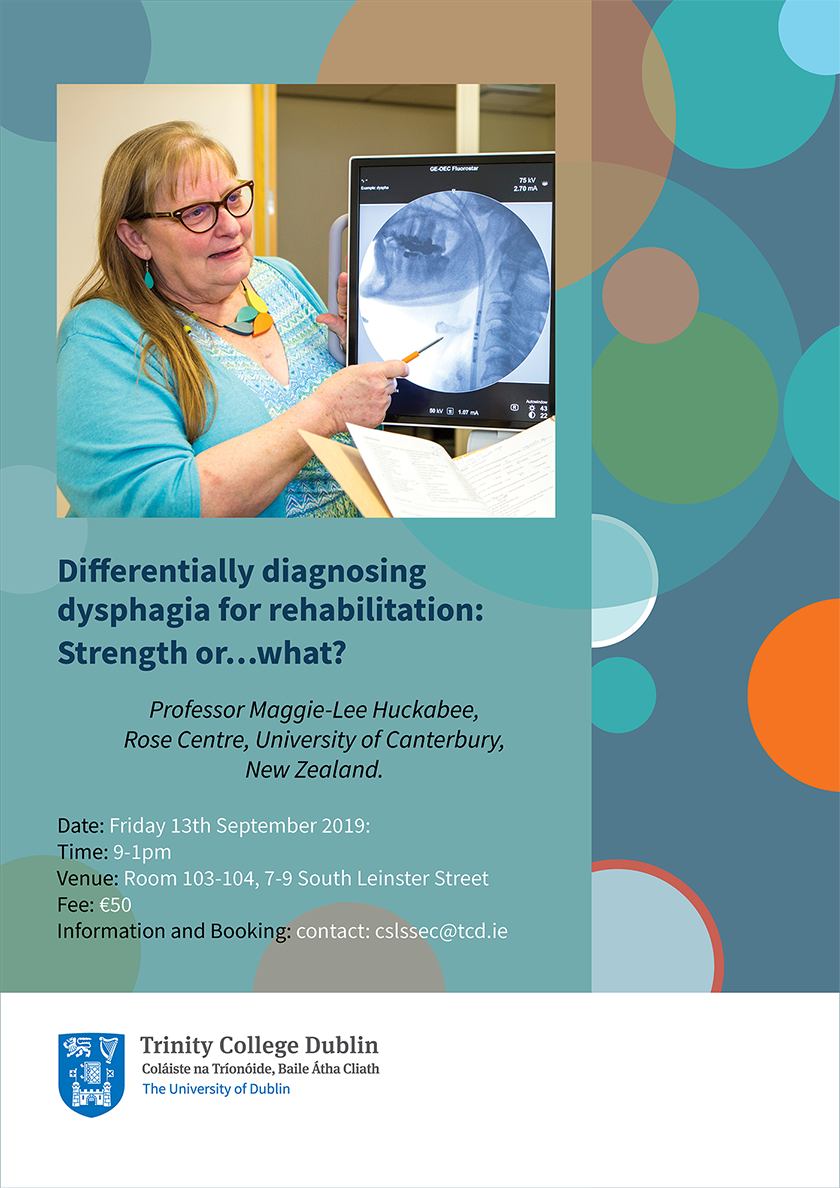 Save the date!
Lecture: "Differentially diagnosing dysphagia for rehabilitation: Strength or…what?' 
Time: 9-1pm Friday 13th September 2019
Venue: 103-104 7-9 Sth Leinster St
Speaker: Prof Maggie-Lee Huckabee, Rose Centre, University of Canterbury, New Zealand. 
Fee: 50€. Limited number of places 

For further information please contact cslssec@tcd.ie
_____________________________________________________________________________________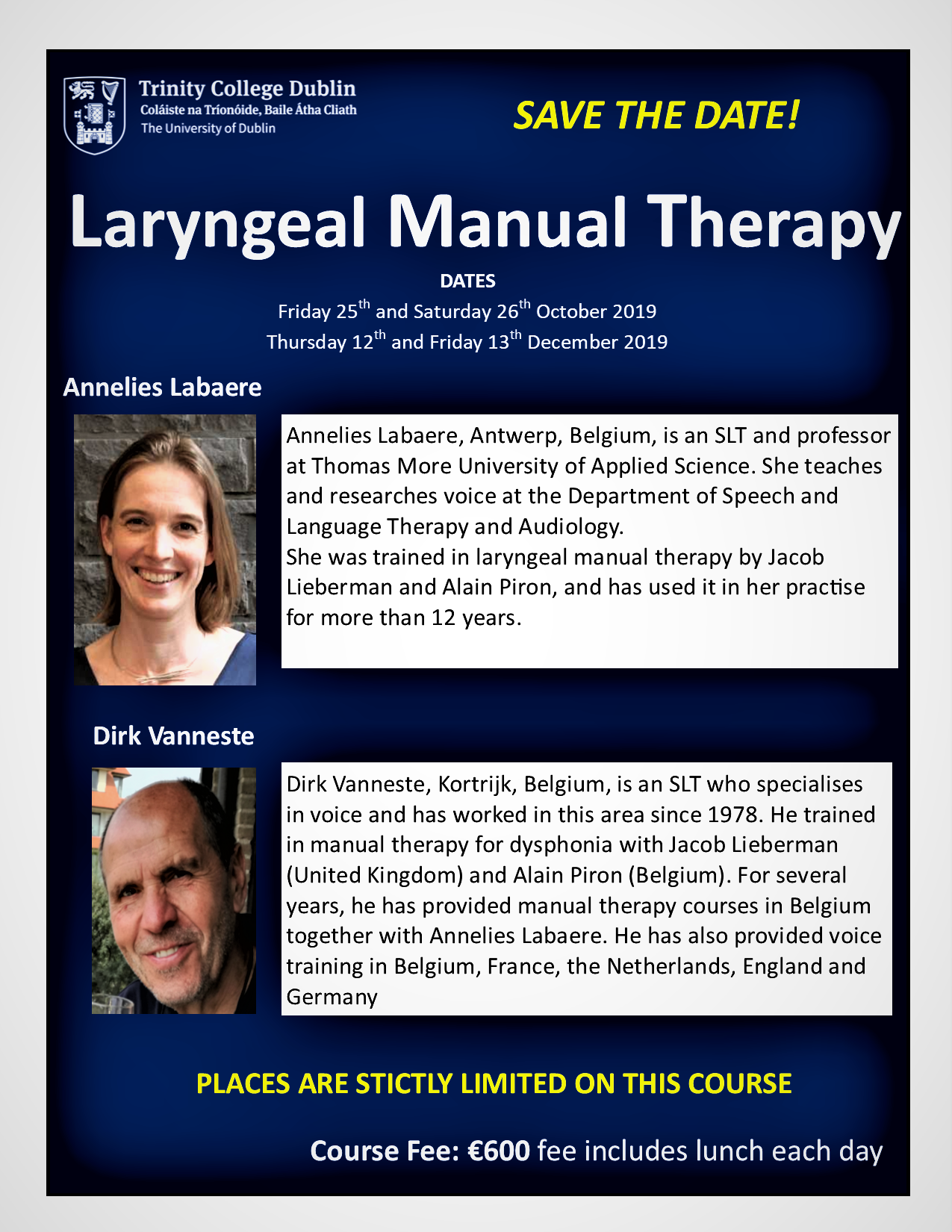 For further information please contact cslssec@tcd.ie
Dates
Friday 25th and Saturday 26th October 2019
Thursday 12th and Friday 13th December 2019
Details
In recent decades, laryngeal manual therapy (LMT) techniques have become
valuable treatments for functional dysphonia. A combination of LMT and
vocal exercises can generate rapid improvements in the treatment of voice disorders.
In this course, participants will learn practical skills for both
assessment and treatment of muscle tension in the laryngeal area. The
evidence and rationale behind laryngeal manual therapy will be discussed. Anatomy and physiology of the larynx and its surrounding muscles will be
examined extensively. During the hands-on sessions, participants will practice the techniques under supervision.
The course contains two modules of two days each (October and December), with a consolidation period of learning and practice lies in between. Participants must attend all course dates.
Refund/Cancellation Policy
Refunds will be given up to 14 days from date of purchase on bookings made on or before the 23rd August 2019
Please note: This course requires a minimum of 22 participants for the course to run and if we do not meet the minimum requirements the course will be cancelled, participants will be notified in advance, and full refunds will be issued.
Laryngeal Manual Therapy (LMT)
Friday 25th and Saturday 26th October 2019 - Thursday 12th and Friday 13th December 2019
Please note; The Laryngeal Manual Therapy (LMT) course is fully booked. If you would like to put your name on the waiting list, please contact cslssec@tcd.ie thank you.
_____________________________________________________________________________________

Online Instrumental Dysphagia Evaluation CPD Course
This continuous professional development (CPD) online course has been developed by the Department of Clinical Speech and Language Studies in Trinity College Dublin. The clinically focused course aims to provide qualified speech and language therapists and other healthcare professionals with the opportunity to develop their understanding of instrumental dysphagia examinations. Whether you have access to instrumentation or you come across these examinations in the research literature, this course will equip you with up to date knowledge on instrumental evaluations employed in dysphagia clinical practice and research.
On successful completion of this course, students will:
Be aware of the indications for an instrumental dysphagia evaluation
Be familiar with the purposes of the instrumental dysphagia evaluations employed in research and clinical practice
Have knowledge of resources and protocols required to complete dysphagia instrumental examinations
Be familiar with the analysis of data from instrumental dysphagia examinations
Recognise the advantages and limitations of various instrumental dysphagia evaluations
This course provides students with a stimulating online learning experience by creating a structured yet flexible learning approach. The place of study is flexible as online delivery allows students to engage in learning activities at home or in the workplace and there is no requirement to attend at the Trinity campus in Dublin. Students get weekly online access to learning materials and must study these materials and complete activities set each week by the lecturer Please note this course does not provide a professional qualification to work in the field of dysphagia. Certificates of participation will be provided to students who complete the course.

Course Organisation
The online course is delivered over a two week period where learning materials are released each Monday. These materials include videos, interactive presentations, relevant literature and short quizzes.

Course Modules
The course includes one module with two weekly sessions. These sessions include:

Session 1: Biomechanical Instrumental Examinations
A. Introduction to Instrumental Dysphagia Examinations
B. Radiological Tests
C. Endoscopic Exams

Session 2: Physiological Instrumental Examinations
D.Gastroenterological Exams
E. Neurophysiological Tests
F. Protocols: Basic Principles
G. The Importance of Test Validation
H. Conclusion

Assessment
There is no formal assessment for this course. However, students must engage with all online learning materials provided before a certificate of participation is achieved.

CPD Information
This online course can be considered towards CPD for professionals associated with CORU. The online course will provide 6 CPD credits
Cost
€200

Course enquiries: Dr Julie Regan - juregan@tcd.ie
Closing date for applications: 28th October 2019