Masters in Speech and Language Processing (M.Phil.)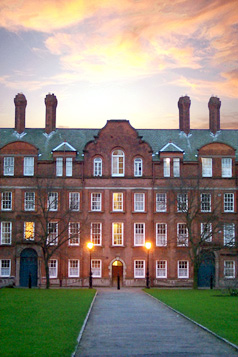 Online applications for 2024/25 are now open until April 30 2024
Please note for this course the minimum acceptable IELTS score is 7.0 with no individual band below 6.5, or equivalent TOEFL/ Cambridge/ Pearson/ Duolingo scores. The deadline for providing all required documentation (e.g. final transcripts, English certification, references etc.) for 2024/25 applications is 15 July 2024.
All MPhil students are required to attend CLCS orientation sessions which will take place in the first week of September 2024 prior to the start of teaching in September.
Course Co-ordinator: Dr Craig Sailor
Applications Co-ordinator: Dr Elaine Uí Dhonnchadha
Full-time: one year, 6 to 8 hours per week of classes.
Part-time: two years, 2 to 6 hours per week of classes.
To apply please see: Postgraduate Taught Courses
Course Handbook 2023-24: PDF
Module Descriptions 2023-24: PDF
Frequently Asked Questions: PDF
Queries: please contact Prof. Neasa Ní Chiaráin
Speech and language processing examines language from two distinct perspectives. Speech processing deals with the science of spoken communication, how speech is encoded by the speaker and decoded by the listener. It is also concerned with the processing techniques used to model speech in ways that can potentially be implemented in technology, e.g., speech synthesis. Speech science is at the intersection of many disciplines: acoustics, linguistics, engineering, psychology, anatomy and physiology, and is key to the understanding of disordered speech. Language processing, in parallel, involves computational aspects of linguistics. It addresses theories of grammar and meaning, and provides access to the fundamentals of linguistics, both as a science and as an engineering discipline. As an engineering discipline, it is concerned with technology applications and tools that exploit linguistic knowledge, such as predictive text, automated personal assistants, web search, etc.

As would be expected from the inherent multidisciplinarity of the area, students come from many backgrounds. Proficiency in mathematics and computing is an advantage, though not a requirement. Many graduates have been employed in the area of Speech and Language Technology, a rapidly growing sector, e.g. Google, LinkedIn, as well as in smaller technology companies. Many have progressed to Ph.D. studies in C.L.C.S. and elsewhere.

A flexible programme, shaped by your interests
Small class size, taught by world-class experts
Wide choice of elective modules offered every year
Competitively-priced tuition
The chance to study at a premier university in the heart of vibrant Dublin
Two-year visa extension for non-EU M.Phil. in Speech and Language Processing graduates to seek employment in Ireland
Application Requirements
In keeping with Trinity College's admission requirements for postgraduate students (see here), applicants should have at least a 2.1 honors degree from an Irish university or an equivalent degree from another country (for example, a Bachelors degree with a GPA of at least 3.2). For overseas applicants, country-specific information regarding admission to Trinity College can be found here. Applicants whose first language is not English and who have not been educated through the medium of English must meet the College's requirements for English-language proficiency (see here). For this course the minimum acceptable IELTS score is 7.0 with no individual band below 6.5, or equivalent TOEFL/ Cambridge/ Pearson/ Duolingo (e.g. for Duolingo minimum overall score 130 and no individual score below 120), etc.
What does the programme look like?
You take four obligatory 'core' modules:
...and choose two from among the following menu of elective modules:
* Strongly advised for those wishing to pursue a research dissertation in Phonetics or Speech Analysis

The modules are taught in Michaelmas and Hilary terms, and students prepare and write a 15,000-word dissertation which is due on the 31st of August.

Further information
Read our Frequently Asked Questions on the M.Phil. in Speech and Language Processing and related M.Phil. programmes.
For a more in-depth insight into the shape and content of the programme, please consult our current course handbook. Note that the information provided in the handbook is subject to change from year to year.

Contact information
Telephone: +353-1-8961560
Email: clcs_mphil_info@tcd.ie