B.Sc. in Clinical Speech & Language Studies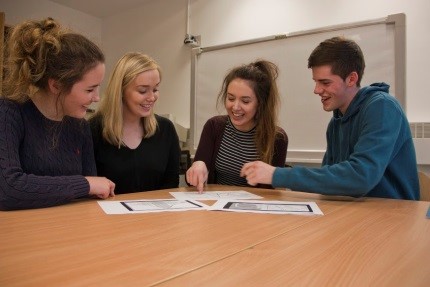 On this page:
About the Course
The B.Sc. Honours degree in Clinical Speech and Language Studies (Undergraduate Course, Code - TR007) is of 4 years duration and leads to a qualification in speech and language therapy. The course is delivered within the School of Linguistic, Speech and Communication Sciences at the university and students participate in a range of courses offered to members of other disciplines. Graduates of the course are professionally recognised by the professional organisations in Ireland and the United Kingdom. Graduates are eligible to register with CORU, the Speech and Language Therapists Registration Board
First Year (Junior Freshman)
Modules
Foundation Clinical Studies (10 ECTS)
Speech, Hearing and Swallowing (5 ECTS)
Social Psychology and Lifespan Development (5 ECTS)
Phonetics 1 (5 ECTS)
Phonetics 2 (5 ECTS)
Introduction to Language Acquisition (5 ECTS)
Language, The Individual and Society (5 ECTS)
Introduction to Syntax (5 ECTS)
Anatomy (10 ECTS)
Physiology (5 ECTS)
Clinical Practice
Pre-clinical work includes visits to healthcare settings, residential settings and schools.
Handbooks
Junior Freshman Handbook 2022-2023 (PDF 724 KB)
Second Year (Senior Freshman)
Modules
Phonetics and Phonology (5 ECTS)
Cognitive and Neuropsychology (5 ECTS)
Nature of Disorders of Speech, Voice, Fluency and Swallowing (5 ECTS)
Assessment of Disorders of Speech, Voice, Fluency and Swallowing (10 ECTS)
Nature of Disorders of Language and Communication (5 ECTS)
Assessment of Disorders of Disorders of Language and Communication (10 ECTS)
Practice Education 1 (10 ECTS)
Linguistics (5 ECTS)
Ethics and Professional Studies (5ECTS)
Clinical Practice
The Clinical Education Programme includes attendance at clinical tutorials and workshops and engagement in observation and practice while on clinical placements in a variety of healthcare and other settings
Handbooks
Senior Freshman Handbook 2022-2023 (PDF)
Third Year (Junior Sophister)
Modules
Discourse Analysis (5 ECTS)
Dynamics of Discourse (5 ECTS)
Evidence Based Practice (5 ECTS)
Intervention for Disorders of Speech, Voice, Fluency and Swallowing (10 ECTS)
Intervention For Disorders of Language and Communication (10 ECTS)
Research Methods and Statistics (5 ECTS)
Research Design (5 ECTS)
Neurology and Psychiatry (5 ECTS)
Practice Education 2 (10 ECTS)
Clinical Practice
The Clinical Education Programme includes attendance at clinical tutorials and workshops and engagement in observation and practice while on clinical placements in a variety of healthcare and other settings
Handbooks
Junior Sophister Handbook 2022-2023 (PDF)
Fourth Year (Senior Sophister)
Modules
Advanced Studies in Communication and Swallowing (5 ECTS)
Advanced Studies in Communication, Disability and Society (5 ECTS)
Research Project (20 ECTS)
Reflective Studies (5 ECTS)
Practice Education 3 (10 ECTS)
Practice Education 4 (10 ECTS)
Counselling Principles and Practice (5 ECTS)
Clinical Practice
The Clinical Education Programme includes attendance at clinical tutorials and workshops and engagement in observation and practice while on clinical placements in a variety of healthcare and other settings
Handbooks
Senior Sophister Handbook 2022-2023 (PDF)