The Trinity Centre for Asian Studies organises regular public lectures, seminars and outreach activities. This page contains links to information about events that have been organised by the Centre or in association with its members. Events are open to all and free of charge unless otherwise indicated. Please email tcas@tcd.ie for further information about any events or conferences listed below.
Public Lectures & Seminars
TCAS Public Evening Lecture - Loughlin Sweeney, 18 February: Irish in China "From Roscommon to China: Emily de Burgh Daly and Irish Professional Networks in 19th Century East Asia"
Abstract: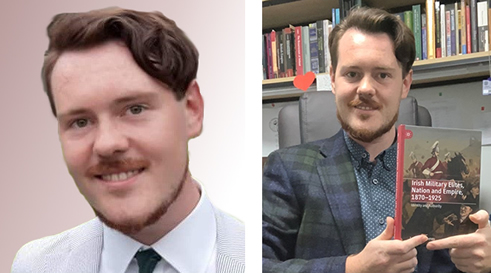 Emily French, a nurse from a middle class Roscommon protestant family, embarked for the port city of Ningbo in China in 1888, following her medical training in London. She would remain in China for the next twenty-six years, marrying an Irish doctor, Charles de Burgh Daly, and having two children. Emily was one of many Irish professionals who lived and worked in China in this period, serving the interests of British informal empire in treaty ports, customs posts, and commercial concessions. This talk will reveal the professional world of Irish sojourners in late-Qing era China, and the personal and occupational networks that tied this distant Irish community together and linked it to Ireland. It will draw out the motivations which attracted Irish professionals to China, particularly their self-identification as empire builders, making a claim to Irish imperial nationhood. It will also explore the ways in which an Irish community was sustained, despite its impermanent and highly mobile membership. What emerges from narratives like Emily's is a novel perspective on Ireland's positioning and role within the British Empire, and a sense of the importance of imperial connections to late nineteenth century Irish society.
Bio:
Dr Loughlin Sweeney is an assistant professor at the newly-established John Endicott College of International Studies in Daejeon, South Korea, and a visiting scholar at the University of Edinburgh. His first book, Irish Military Elites, Nation and Empire 1870-1925 was published in 2019 with Palgrave Macmillan. He is a historian of Ireland's connections to the overseas British Empire in the nineteenth and twentieth centuries, and is currently working on a project tracing Irish professional networks in East Asia in the late nineteenth century. lsweeney@endicott.ac.kr
6pm - Neill Theatre, Trinity Long Room Hub Arts & Humanities Research Institute
Joint Davy Group/TCAS Lunchtime Seminar "Nidec Corporation and Electric Vehicles", 24 February
Abstract:
With visiting expert, Mr Yuji IWAI, Nidec Corporation, London Representative Office. In association with Davy Group. This second lecture in a special joint series by Davy Group/TCAS continues to explore the topic of Electric Vehicles (EVs). Nidec Corporation is the world's largest comprehensive electric motor manufacturer, and Mr Iwai will explore some of the most exciting new directions in EVs. The Nidec Group was established in Japan in 1973, and it specializes and handles motor application products based on 'everything that spins and moves', from small precision to supersized motors. Their products are used across the world in the automotive industry, robotics, haptic devices, IoT products and in many other fields.
Bio:
Speaker Profile. Mr Yuji Iwai has been Chief Representative at Nidec's European Representative Office in London since 2015. He has previously held positions of General Manager in the IR & CSR Promotion Department and Overseas Sales Department. From 1988-2014 he worked for Mizuho Bank in securities and product development, and prior to that he worked for JVC in international and domestic sales. He holds a B.A. in Foreign Languages, Sofia University, Tokyo.
1pm - Neill Theatre, Trinity Long Room Hub Arts & Humanities Research Institute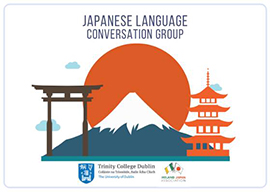 From Thursday 30 January 2020 until Thursday 9 April 2020, 1-2pm weekly. Free Japanese lunchtime conversation group meeting. In association with the Ireland Japan Association.
This weekly lunchtime conversation group will allow Japanese learners of all levels to develop their conversation skills in a casual, lunchtime environment. Feel free to bring your lunch and find some new conversation partners at the same time. No registration is needed, and all are welcome – whatever your level of Japanese!
TCAS Seminar Room 2011 (Arts Building Annex – entrance beside the Douglas Hyde Gallery).
Podcasts
Previous Events
5 February, 2020. Chop Suey and Other Inventions: The History of Chinese Overseas - Dr Peter Hamilton.
3 February, 2020. A man with rat-like eyes: how Chinese speakers swear - Dr Ning Jiang.
28 January, 2020. A Century of Chinese Children: 'little friends' in a changing world - Dr Isabella Jackson.
25 November, 2019. Joint Davy/TCAS Public Evening Lecture. Will EVs be an ultimate answer to CO2 footprint reductions? With visiting expert, Mr Noboru Uchiyama, General Manager, Investor Relations Europe, Panasonic Corporation.
10 October, 2019. New Island and the Trinity Centre for Asian Studies invite you to the book launch of The Irish and China by Jerusha McCormack (ed.).
7 October, 2019. TCAS Lunchtime Seminar Onsen in Japan: An adventurous way of exploring the country!  With special guest speaker Ms Noriko Seino, Junior Landlady (Waka Okami) Seikokan.
29 June, 2019. Motivation and emotions in language learning. Professor Keita Kikuchi, Kanagawa University, Japan. Part of the XCELING 'Innovation in Applied Linguistics' Series.
25 June, 2019. Ireland-Indonesia Relations. Ambassador of the Republic of Indonesia to Ireland, Dr Rizal Sukma.
27 May, 2019. The Asian Economy and the World's Financial Markets. Mr Satoshi Okagawa, SMBC Senior Global Markets Analyst (London)
24 May, 2019. Career Reflections: International cooperation for environment risk governance and management. Ms Ria Sen, United Nations World Food Programme, Rome.
4 April, 2019. Dynamics of Occupy Protests: Lessons from Taiwan's Sunflower Movement and Hong Kong's Umbrella Movement. Ming-sho Ho, Professor of Sociology, National Taiwan University.
25 February 2019. TCAS Lunchtime Seminar. "'You have become my heaven and my mariner': Fr. Angelo Zottoli SJ (1826-1902) and his mission in Shanghai". With Antonio de Caro, Hong Kong Baptist University/Trinity College Dublin.
19 February 2019. TCAS Lunchtime Seminar. Cultural and Technological Experiences from a Taiwanese Perspective. Guest speaker: Dr Pierre Tzu-pao Yang, Taipei Representative Office in Ireland. Dr Yang will give a presentation on the Taiwanese experience of using technology to promote culture, including how technology can play a positive role in a 'new renaissance of the twenty-first century' and whether the Taiwanese experience suggests a new means of facilitating dialogue between technology and culture.
15 February 2019. Film Screening "The Edge of Night" 街頭 and Q&A with Director Chiang Wei-Hua. Chiang Wei-Hua is a Taiwanese independent filmmaker. His documentaries focus on Taiwanese youth cultures. The "Edge of Night" 街頭 (2018) was the selected competition film for the 2018 Taipei Film Festival and awarded for the Top Prize at South Taiwan Film Festival. With Dr Malte Kaeding (University of Surrey). Supported by the Taipei Representative Office in Ireland.
14 February 2019. TCAS Public Evening Lecture in association with the Dublin Chinese New Year Festival. 100 Years of Chinese Anti-Imperialism: The May Fourth Movement of 1919. In 1919, Chinese students organised a major protest movement, beginning on 4 May, to oppose the government's perceived acquiescence to the Treaty of Versailles. The protest swelled to include tens of thousands of people across China and became the most important political and cultural flowering of the period. Dr Isabella Jackson will explain the events and significance of this turning point in Chinese history.
11 February 2019. TCAS Public Evening Lecture in association with the Dublin Chinese New Year Festival. An Introduction to the Chinese Writing System. The Chinese language is well-known worldwide due to its long history and unique writing system. Whilst many of the world's languages are written in alphabets or syllabaries, the ideograms of the Chinese writing system convey not only pronunciation but ideas and concepts in the form of picture symbols. Ning Jiang explores the evolution, development and transformation of the Chinese writing system, including contemporary developments in the digital era.
5 February 2019. TCAS Public Evening Lecture in association with the Dublin Chinese New Year Festival. Fifty Shades of Humour in China. Humour is an indispensable component of our life which provides a cognitive shortcut in our understanding of social and political issues, as well as how we perceive 'the Other'. As polarisation sweeps both democratic and authoritarian regimes, this lecture examines how humour plays a part in our participation in political life. Dr Wang-Kaeding will look at the case of China and map out different types of humour which reflect and even condition state-society dynamics. The audience will see examples ranging from state-sponsored skits in the Chinese Spring Festival Gala to memes created by netizens, and will be invited share their opinions on examples to help come up with a working definition of 'political humour'.
30 January 2019. In association with the International History Seminar Series. The Italian-Chinese Silk Market, 1850-1915. With Dr Aglaia De Angeli (QUB). Dr De Angeli is a sinologist who specialises in social and law history of Republican China. Part of the Sir Robert Hart Project at Queen's, her work includes historical photography and Sino-Western relationships, especially between China and Italy, France and Ireland, on law, diplomats, silk and missionaries.
19 November 2018. TCAS Lunchtime Seminar. Turbulence in the world trade regime and the Japan-EU Economic Partnership. Professor Kimura, Keio University & Chief Economist, Economic Research Institute for ASEAN and East Asia (ERIA), Jakarta, Indonesia. Slides available here. This seminar is also available as a podcast. In association with the Embassy of Japan in Ireland.
12 November 2018. TCAS Lunchtime Seminar. East Asia and Future of World Trade: An Assessment of the Trump and Brexit Impacts. Dr Christopher Dent, Senior Lecturer in Economics and Business at Edge Hill University. Slides available here. This seminar is also available as a podcast.
11 September, 2018. TCAS Lunchtime Seminar. Watering down Hong Kong. Born and raised in Hong Kong, Claudia Mo is an independent, pro-democracy legislator and a journalist by training in the city. She is a founder of the HK First group.
Download our Events Archive 2014/15, 2016/17, 2017/18