Masters in English Language Teaching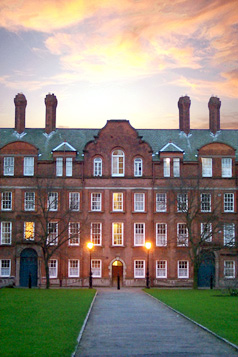 Online applications for 2024/25 are now open until April 30 2024
Please note for this course the minimum acceptable IELTS score is 7.0 with no individual band below 6.5, or equivalent TOEFL/ Cambridge/ Pearson/ Duolingo scores. The deadline for providing all required documentation (e.g. final transcripts, English certification, references etc.) for 2024/25 applications is 15 July 2024.
All MPhil students are required to attend CLCS orientation sessions which will take place in the first week of September 2024 prior to the start of teaching in September.
Course Co-ordinator: Dr Craig Sailor
Applications Co-ordinator: Dr Elaine Uí Dhonnchadha
Full-time: one year, 6 to 8 hours per week of classes.
Part-time: two years, 2 to 6 hours per week of classes.
To apply please see: Postgraduate Taught Courses
Course Handbook 2023-24: PDF|
Module Descriptions 2023-24: PDF
Frequently Asked Questions: PDF
Queries: please contact Dr Bronagh Ćatibušić
APPLY NOW
Our taught Master's degree (M.Phil.) in English Language Teaching incorporates academic, research and practical elements within its structure. Please note, however, that this course is not the equivalent of a professional award like Delta. Rather, it supports an integrated approach to English language teaching that balances theory with practice.

Our M.Phil. offers you:
Elite, tailor-made programme
Flexible design shaped by your interests in English Language Teaching
Small class size, taught by world-class experts
Controlled micro-teaching practice
Wide choice of elective modules offered every year
Competitively-priced tuition
The chance to study at a premier university in the heart of vibrant Dublin
Two-year visa extension for non-EU M.Phil. in English Language Teaching graduates to seek employment in Ireland.
Programme Structure

The M.Phil. in English Language Teaching (ELT) will give practising teachers the opportunity to explore current issues in ELT, and to deepen their understanding of the theoretical and practical concerns that underlie their teaching.

For students who are new to teaching, the elective modules in English Language Teaching Practice can provide exposure to lesson planning and teaching approaches through the use of classroom observation, controlled micro-teaching practice, and other means.

Application Requirements
In keeping with Trinity College's admission requirements for postgraduate students (see here), applicants should have at least a 2.1 honors degree from an Irish university or an equivalent degree from another country (for example, a Bachelors degree with a GPA of at least 3.2). For overseas applicants, country-specific information regarding admission to Trinity College can be found here. Applicants whose first language is not English and who have not been educated through the medium of English must meet the College's requirements for English-language proficiency (see here). For this course the minimum acceptable IELTS score is 7.0 with no individual band below 6.5, or equivalent TOEFL/ Cambridge/ Pearson/ Duolingo (e.g. for Duolingo minimum overall score 130 and no individual score below 120), etc.
Preference is given to applicants with relevant teaching experience. Applicants with limited experience of English language teaching may find it advantageous to take an English Language Teaching Practice elective module, as appropriate. Students whose first language is not English are encouraged to attend an eight or four-week a pre-sessional Summer programme to prepare them for postgraduate study in Ireland (see here). All applicants are expected to show proficiency in at least one language other than their first language.
What does the programme look like?
You take four obligatory 'core' modules:
...and choose two from among the following menu of elective modules:
The modules are taught in Michaelmas and Hilary terms, and students prepare and write a 15,000-word dissertation which is due on the 31st of August.

Further information
Read our Frequently Asked Questions on the M.Phil. in ELT and related M.Phil. programmes.
For a more in-depth insight into the shape and content of the programme, please consult our current course handbook. Note that the information provided in the handbook is subject to change from year to year.

Contact information
Telephone: +353-1-8961560
Email: clcs_mphil_info@tcd.ie