TCD Working Papers in Linguistics
The Trinity College Working Papers in Linguistics is a new publication from the School of Linguistic, Speech and Communication Studies. It is seen as the natural successor to the Occasional Papers series, and is an annual publication, edited by Ph D candidates. Our inaugural issue features the proceedings from the 6th Sociolinguistics Summer School, held at Trinity College in August, 2015.
Download the Inaugural Issue of The Trinity College Dublin Working Papers.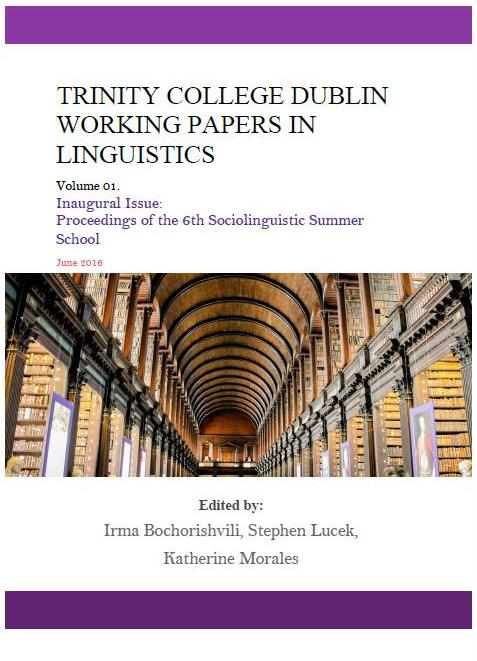 Contents:
Foreword by Head of School (Dr. Martine Smith)
Introduction by Editors (Irma Bochorishvili, Dr. Stephen Lucek & Katherine Morales)
Linguistic Variation, Integration & Identity Construction in Contexts of Migration: An Assessment of Current Approaches (Dr. Bettina Migge)
Repeated questions and code-switching: Issues of Politeness and Preference (Irma Bochorishvili,Mirjam Eiswirth, Kathryn Northeast)
The role of languages for the construction of cultural identity: Language use and attitudes among young Italian-Australians (Romina Buttafoco)
Men and Feminism? D/discursive constructions of masculinities in relation to the feminist movement (Leonardo Dias Cruz)
Language Choice of Chinese Dependents in Service Encounters (Loo May Eng)
Second Language Acquisition and Sociolinguistic Variation: A Study Abroad Perspective on the Use of Discourse Markers in the L2 (Annarita Magliacane)
Attribute mining and stancetaking in a Dublin sports club (Fergus O'Dwyer)
Speaking French without an Accent: Ideologies About Phonetic Accommodation among Cameroonian Immigrants in Paris (Suzie Telep)
Language Planning Policies and Migration: A Case Study on Meshks Deported from Georgia in 1944 (Maka Tetradze)
Following the White Paper Trail: A Brief History of Attitudes to Swearwords through Film Classification Archives (BBFC: 1912-2012) (Julie Villesseche)
Akan in Accra: Towards the Formation of a New Variety (Solace Yankson)
Doing Leadership Through Narrative Discourse: Storytelling and Identity Construction in a Global Community of Practice (Plamena Valcheva)