Enhancing Speech and Language Therapy though Artificial Intelligence (Project ESTA)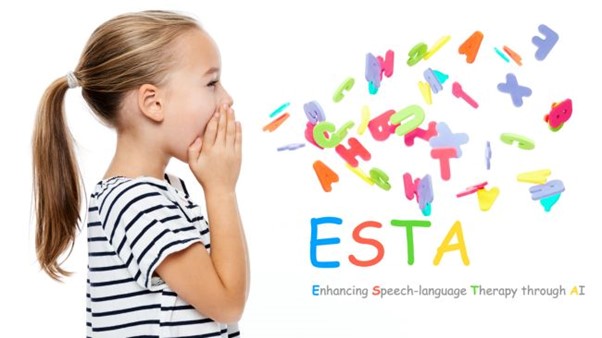 The project
Enhancing Speech and Language Therapy through AI (ESTA) is an exciting collaborative project between researchers in Trinity College Dublin and National College of Ireland. Funded through Science Foundation Ireland's OurTech Challenge, project ESTA aims to create a technology platform to improve the service delivery of speech and language therapy for children.  
The Challenge
Speech, language, and communication needs are the most common childhood disability with prevalence rates of 7-10% reported for preschool children rising to as high as 50% of all children in areas of social disadvantage. Children with poor vocabulary are twice as likely to be unemployed as adults. Speech and language therapy has demonstrated effectiveness in supporting children's speech and language development both in children with typical development and in children with disabilities. Despite the high prevalence of speech, language and communication needs in young children, and the demonstrated effectiveness of speech and language therapy, many families are unable to access therapy for their children due to the lengthy waiting lists that exist in Ireland. Innovative solutions are needed to improve capacity and enable families to access the services they need.
Our aim
Project ESTA aims to identify innovative solutions to improve efficiency and enhance service delivery in speech and language therapy. Dr Yvonne Lynch in the School of Linguistic Speech and Communication Sciences is leading a study as part of this project to understand the current experience of how speech and language therapy is delivered. We want to understand the needs of people involved in the service, namely speech and language therapists and parents of children in attending speech and language therapy, to get an insight into how technology can improve the service.
Opportunity to get involved
If you are a speech and language therapist, or a parent of a child attending speech and language therapy, you can participate in a short interview to share your opinions and ideas about the service. The interview can take place online or in person, and would focus on things that went well, challenges encountered, and opportunities for improvement.
If you are interested or would like more information about participating, contact Jane Sheridan at sheridj4@tcd.ie