Irish Syllabic Poetry, circa 1200-1650: BARDIC@TCD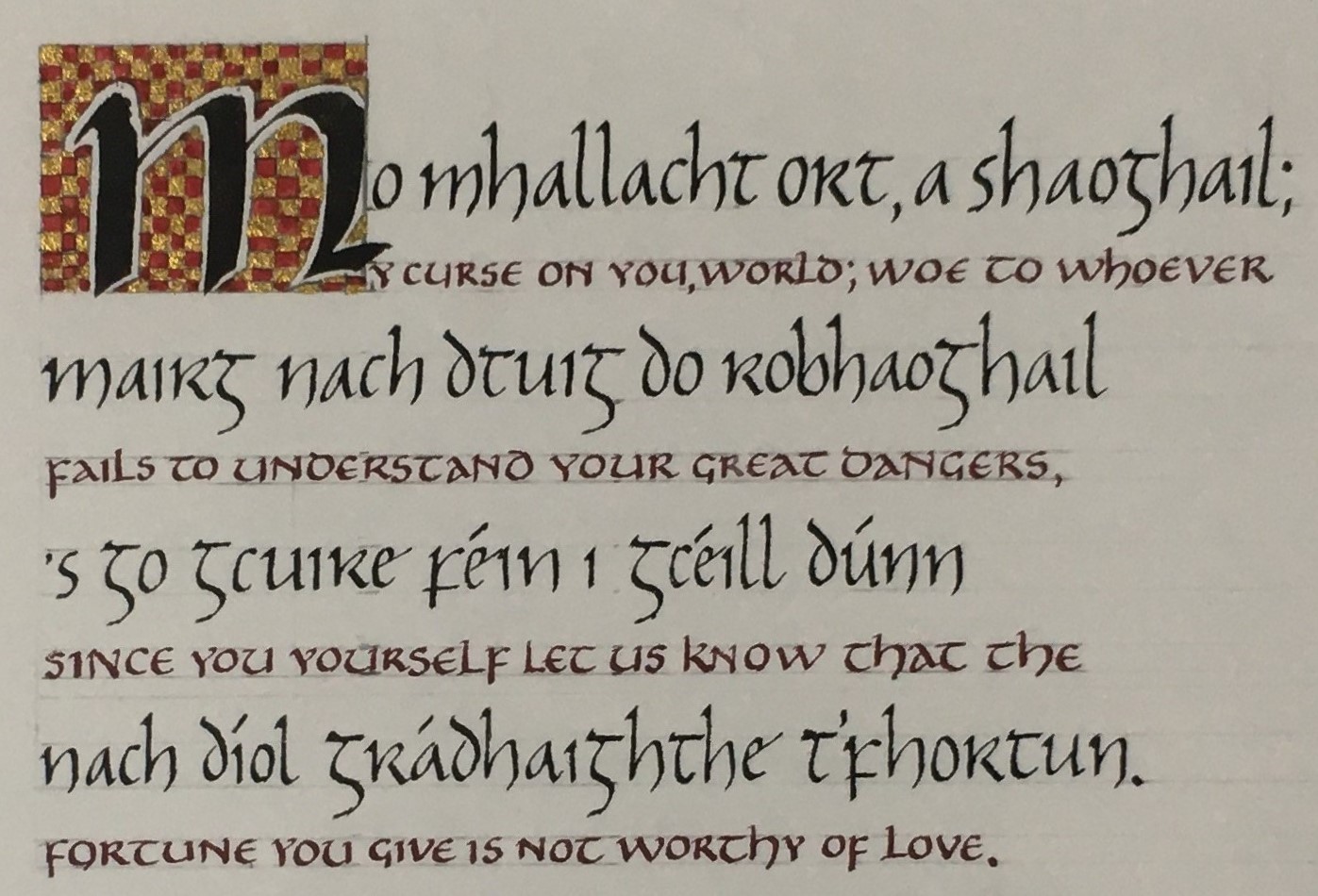 Irish Syllabic Poetry, circa 1200-1650 (BARDIC@TCD) is a freely available part-of-speech tagged corpus containing approximately 500 syllabic poems.
This is a corpus of Irish syllabic poetry (also called 'bardic poetry') from the period c. 1200 to c. 1650. It is part of Trinity College Dublin's ongoing Bardic Poetry Project. We intend to include all of the 2,000 or so surviving poems but are beginning with the 500 poems in Damian McManus and Eoghan Ó Raghallaigh (eds), A Bardic Miscellany: Five hundred bardic poems from manuscripts in Irish and British libraries (Dublin 2010).
Work on the corpus is ongoing and it will be updated regularly. This is such a valuable resource that we believe that an incomplete version will still be a great help to scholars.
Linguistic annotation of the bardic poetry, e.g. Poem Number 1387:

Mo mhallacht ort a shaoghail
mairg nach ttuig do robhaoghail

Each word is stored vertically in a list along with several columns of additional properties as shown below. You can use any combination of words and properties in your searches.

WORD

MODERN WORD (STD)

MODERN LEMMA

MODERN
LEMMA-POS

POS & Features

<l>

Mo

Mo

mo

mo-D

Dp1-s

mhallacht

mhallacht

mallacht

mallacht-N

Ncfsc

ort

ort

ar

ar-P

Pr2-s

a

a

a

a-U

U

shaoghail

shaoil

saol

saol-N

Ncmsv|Ncmsg

</l>
Access: The corpus can be freely accessed at the following link http://app.sketchengine.eu/#open
Searching via the SketchEngine corpus query interface:
Searching for a word in context: a simple concordance for the lemma "mallacht"

Results showing keyword in context (KWIC). In the image below we see the

keyword

and underneath the words we can see the POS/Lemma annotations.
Metadata and sub-corpora
Searching, sorting and saving
More advanced searches using CQL
Structure of the data (vertical and horizontal)
Background and acknowledgements
We are delighted to acknowledge that our work to lemmatise and tag the whole corpus and make it available here is built on two pillars:

The first is the work of Dr Katharine Simms FTCD over many years to catalogue and index all surviving bardic poems. The fruits of her work are now available on the website of the Dublin Institute for Advanced studies (https://bardic.celt.dias.ie/). This resource is now being further updated by Dr Mícheál Hoyne of the DIAS.
The second is the work carried out in TCD's Irish Department under the direction of Prof. Damian McManus to digitise all surviving published and unpublished poems. All 2,000 or so poems can now be accessed individually under their respective entries at https://bardic.celt.dias.ie/.

Project team:

Dr Eoin Mac Cárthaigh, etc.
Dr Elaine Uí Dhonnchadha : corpus preparation and annotation: (incl. Caighdeánaitheoir and Irish POS tagger)

Link to current CISS page??
Contact us
We welcome your feedback. If you see and error please let us know. Or if you have ideas for improvements to the corpus we would love to hear from you. ( bardic@tcd.ie)