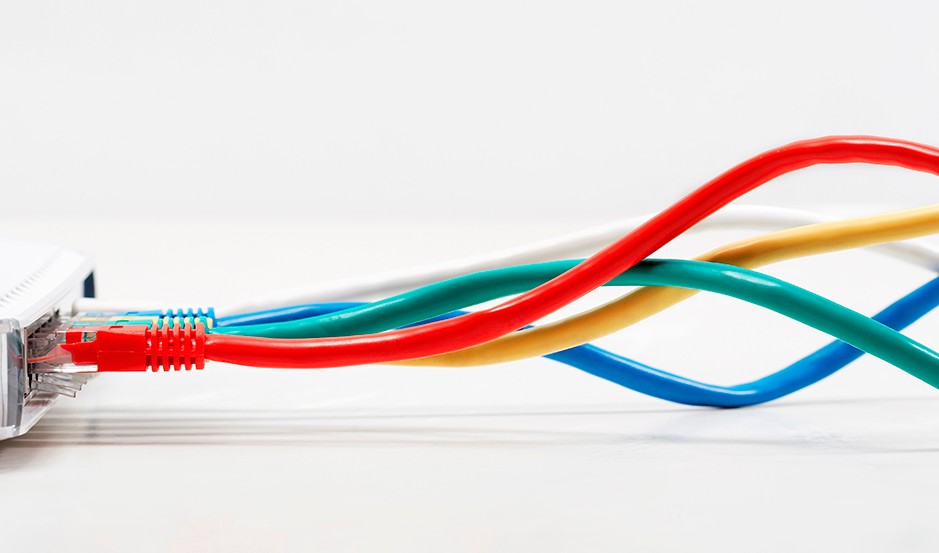 The E-LENGA project sets out to address the specific language needs of target audiences through the use of ICT in language teaching and assessment. E-LENGUA is a consortium composed of seven universities, all of them with extensive experience in second and foreign languages training. The project's main goal is to update curricular design for language teaching using ICT in Europe in a synergistic way through drawing on our shared expertise. The general objectives of E-LENGUA are:
1. To contribute to the reinforcement of cooperation among European institutions of higher education through the exchange of best practices with a view to achieving the integration of digital competencies in the curricular design of foreign language teaching.
2. To draw up teaching proposals that respond to the educational needs of the European context -intercultural and multilingual- and that present possible solutions to the challenges posed by the applications of ICT in the teaching of foreign languages.
3.To implement the development of cross-sectional knowledge, skills and attitudes related to the digital competencies integrated into foreign language-learning in Europe, paying special attention to particular target audiences.
Consortium Members and E-LENGUA Team
Along with Trinity College Dublin, the partner universities involved in the E-LENGUA consortium are:
TCD Researchers involved in the E-LENGUA project and training activities:
Ms Daniela Modrescu (TCAS)
Ms Alison Moore (CELLT)
Ms Mona Syrbe (CELLT)
Research Activities
Our challenges in researching the educational application of ICT in teaching of foreign language teaching are:
How to foster motivation and universal accessibility in regard to foreign language (FL) learning in the EU
How to improve collaboration and interaction in the teaching of a FL, in both oral and written competences
How promote meaningful learning of a FL through the integration of affective aspects (motivation, attitude, etc.)
How to encourage autonomous and accessible learning, at any time and anywhere
How integrate intercultural communication in the teaching of a FL
How to foster the effective use of computer-mediated synchronic and asynchronic communication systems (CMC) in FL teaching to facilitate learning
How improve online language assessment
The universities in the consortium, leaders in FL pedagogy, are creating open-access repository of best practices in innovative language teaching along with tangible products to help meet the challenges mentioned before, as well as providing technical and academic training in the use of new technologies applied to language teaching, publishing E-LENGUA results and engaging in knowledge transfer. TCD is responding to the challenge regarding online language assessment, drawing particularly on our expertise related to the Common European Framework of Reference for Languages in language testing, our work on self-assessment, and on self-access language learning.
Technical and Academic Training
One of the key aims of E-LENGUA is the training of university language teachers, technicians and administrative staff in the use of new technologies applied in the universities participating in the project. Three E-LENGUA visitors from Coimbra, Salamanca and Poitiers have responded to the TCD training call, benefitting from our School's expertise in Language Testing, Curriculum Design, Computer-Assisted Language Learning and Corpus Linguistics, as well as sharing their own local activities with TCD staff. Two TCD researchers, Ms Mona Syrbe and Ms Daniela Modrescu, have travelled to Heidelberg and Bologna respectively to learn from our partners' expertise.

Celeste Vieira from
UC_D (Projeto Especial de Ensino a Distância da Universidade de Coimbra)
Meetings
So far, the full E-LENGUA consortium has met twice face-to-face, as well an extraordinary meeting in Salamanca and regular Skype meetings. The kick-off meeting in Salamanca (28th-29th November 2015) allowed for the team to clarify the project's aims and working methods. A second full consortium meeting took place at TCD in 2016 (28th-29th April), where work on the open-access repository and training component of the project were discussed.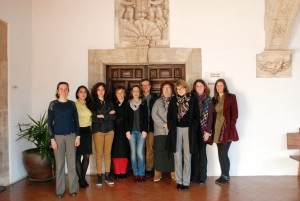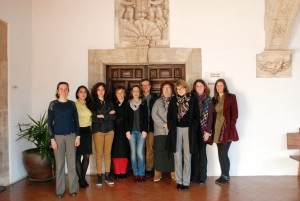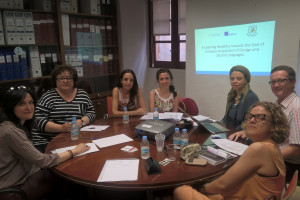 E-LENGUA project 2015‐1‐ES01‐KA203‐015743 Project Duration: 36 months
Start Date: 01/9/2015
End Date: 31/08/2018
Budget: €151,370