5th AILA-Europe Junior Research Meeting in Applied Linguistics
Conference Dinner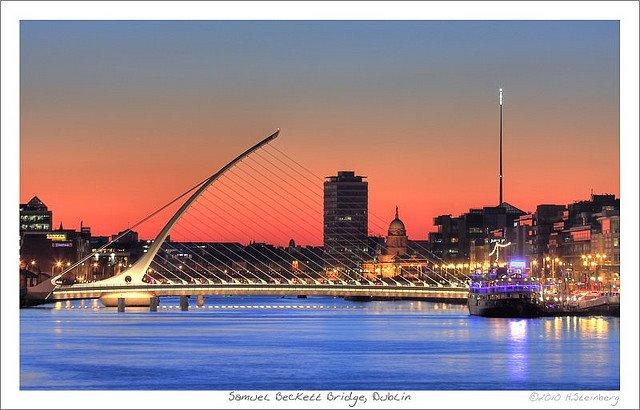 Our conference dinner experience
The conference dinner will be held at 7:30pm on Wednesday 19th June, the middle night of the conference. Dinner will be served in a unique setting aboard the restored tender boat the MV Cill Airne. The boat is moored right in the heart of Dublin's Docklands on the main river which divides the cityand is within pleasant walking distance from the city centre. Panoramas of the city and the river Liffey can be enjoyed both east and west of the boat from the decks. Weather permitting, we should be able to enjoy a post-dinner drink above deck in the aura of a Dublin "sunset and evening star" (O'Casey, 1973).
MV Cill Airne historical background
The short-haul tender MV Cill Airne was built in the Liffey Dockyard in Dublin and was the very last of the rivetted ships to be built in Europe. Designed to carry over 1,000 passengers ashore from large liners which could not dock in port, and occasionally cars of wealthy Americans visiting Ireland, the Cill Airne suffered from the collapse of the Liner trade following the proliferation of Airline traffic. During her duty the Cill Airne brought Laurel & Hardy and American President Eisenhower ashore.
What others say
The Quay 16 restaurant regularly receives 4 and 5 stars from foody reviewers here in Dublin:
"This beautifully restored ship is a breath of fresh air, and a unique place for dinner. The food was excellent and a pre or post dinner drink on deck is wonderful on a Summers evening... hop aboard, you won't be disappointed." - Taste of Ireland.com with Paolo Tullio, May 2008
"Adorned with an array of twinkling lights and docked quietly at the IFSC, the Cill Airne liner is home to Dublin's most intriguing dining experience, Quay 16. Like your own personal Titanic (without the watery end of course!), this restaurant provides some welcome old world glamour to evenings spent at the very modern IFSC. The decor includes crisp, white, linen tablecloths, original brass fittings and stunning period timber that covers not only the walls in between the many windows, but also the floor of both the restaurant and the bar. The restaurant feels nice and secluded as it idles on the Liffey, and that certainly adds to the amorous atmosphere that dining on this stunning vessel creates." - Laura Whiston, Living In Magazine, February 2009
O'CASEY, S. 1973. Sunset and evening star, Pan books LTD.