Study Abroad and Language Options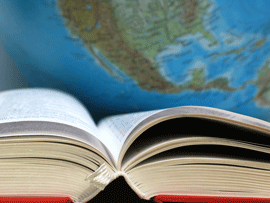 Many BESS students spend half or all of their third year studying at distinguished universities in Europe, Australia, Asia and North America. This is a unique opportunity for students to not only enrich their academic education but also to gain invaluable intercultural, language, social and civic skills. Some of the exchange programmes offer courses through English while others allow BESS students to study abroad through the country's language. There are a variety of exchange programme types and destinations on offer.
BESS Language Options
The BESS programme not only provides students with a broad-based education in Business, Economics, Political Science and Sociology it also gives students the opportunity to study a language. Currently French, German, Spanish, Russian and Polish are available are available as module options in the Freshman years. A Certificate of Competency is awarded to students who successfully complete these courses. See the Module Outline sections for additional information on language options:
Additional Information and Contacts
There is a wealth of information on the Business, Economics, Political Science and Sociology websites regarding study abroad opportunities. Students should review the relevant web content, on the following links, before contacting the Exchange Coordinators:
There is also great information for outbound Trinity exchange students on the Study at Trinity website.
Contact details for Exchange Coordinators, in the four disciplines taught in BESS, are available on the Study Abroad section of the School of Social Sciences and Philosophy's website.
Hautes Études Commerciales (H.E.C.) Paris Double Degree Programme
Single honor Business or joint Honours Economics/Business students may apply for entry to the programme.  At the end of their Junior Sophister year students transfer to the H.E.C. in Paris for a further two years of study. On successful completion of this programme, students are eligible for the award of either the Bachelor of Arts or Bachelor in Business Studies from Trinity College, together with the Msc in Management/Diplôme de Grand Ecole from the H.E.C. Welcome | HEC Paris. More information pertaining to how the process works, how to apply for the programme, is available here.
Study Abroad information booklet is available here.