M.Phil Art + Ireland
DPTHH-IAHI-2F09 (full-time)
DPTHH-IAHI-2P09 (part-time)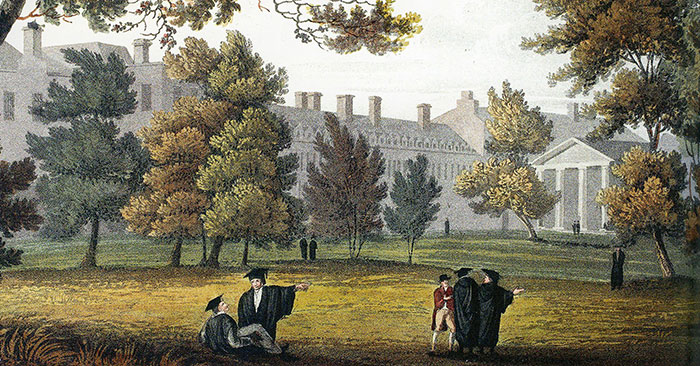 M.Phil. provides an opportunity to undertake detailed study in the history of art in Ireland, serving as a foundation for those considering doctoral research or careers working in museums, galleries, and auction houses as well as in cultural media and heritage.
Is this course for me?
The course is aimed at students with a primary degree in the history of art or cognate discipline. The material covered includes Irish art in Ireland, Irish collections of European and non-European art, and collections of Irish art outside Ireland, providing students with an exciting range of possible avenues for primary research. The taught modules make use of the outstanding collections of art and architecture in Dublin, and enable students to examine both well-known works and objects that are usually inaccessible to the general public. Students are asked to think critically about the interpretation of objects using a range of methodological approaches. The programme culminates with students producing dissertations on focused topics with the supervision and support of members of staff.
Awards and Studentships
For 2021-22 entry all applicants will automatically be considered for the following awards:
The Constantia Maxwell Faculty Studentship, with a value of 5000 euro is offered to a student in any of the School's MPhil programmes (not available for 2021-22).
The School of Histories and Humanities also offers one bursary of 1000 euro, to be deducted from the course fees, for each of its MPhil programmes.
Awards will be made on academic merit. All completed applications with an unconditional offer by the deadline of June 30th, 2021 will be considered.
Course Structure
Full-time option
Taken as a full-time course, the M.Phil. lasts for 12 months, starting in September. Teaching is spread over 24 weeks from September to the following April. Students then complete a dissertation, which is submitted in August. The course consists of a combination of compulsory and optional components that together make up the 90 ECTS expected for full-time study over one academic year at Masters Level.
Compulsory Elements:
All students take the module HA7050 Research Methods in Art History and complete a Dissertation
Taught Module Options
Students take four taught modules from the selection available. Available options vary from year to year, but will include some of the following:
Part-time option
Students taking the course on a part-time basis do so over two years. In the first year students take Research Methods in Art History and two Options modules. In the second year students take an additional two Options modules and complete the dissertation. All classes take place Monday to Friday, between 9.00 and 18.00.