HA7035 The Art and Agency of the Printed Image in Ireland from the 1800s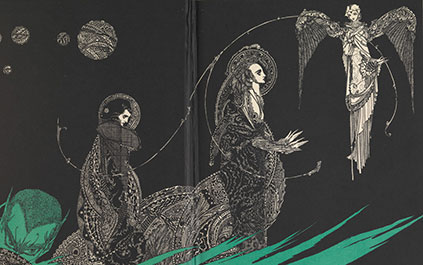 In this module fine art printmaking, illustration and graphic design in Ireland are examined within artistic, social and cultural contexts, including their place within the broader British and European experience.
Module Organiser:
Contact Hours:
Weighting:
Assessment:

This module will be assessed by a combination of oral presentations, practical exercises and written assignments with a combined length of max. 5,000 words, excluding footnotes and bibliography. Details of the requirements and deadlines will be provided in the module handbook.
The development of early Irish modern illustration and graphic design is explored in relation to the theories, practices and 21 stylistic principles associated with the Arts and Crafts Movement, Art Nouveau, the Irish revival and modernist movements. The consumption, dissemination and promotion of illustration and graphic art are also considered. How artists negotiated the demands of industry and the training of artists for this sector is addressed, as is the emergence and impact of new technologies on the printed image. Key figures, private and commercial presses, and their works are identified and their contribution analysed.
Learning Outcomes:
On successful completion of this module, students should be able to:
Identify and critically discuss the key developments and chronology of illustration, printmaking and graphic arts in Ireland in the 19th and 20th century
Identify and analyse key stylistic movements and ideologies in illustration, printmaking and the graphic arts in the 19th and 20th century, such as the Arts and Crafts Movement, Art Nouveau, the Irish Revival and modernist movements
Critically discuss significant Irish print works, illustrations, graphic designs and their authors in the 19th and 20th century, using appropriate terminology
Situate the Irish production and consumption of print works, illustration and graphic design within a broader European context
Critically discuss the significance of the printed image as a cultural agent, including its contribution to nationalist agendas, education and art movements
Evaluate key modern art historical approaches to the printed image and associated theoretical discourse
Describe the processes, technologies and materials of illustration, printmaking and graphic art production in the 19th and 20th century