Alumni & Friends, Trinity College Dublin
---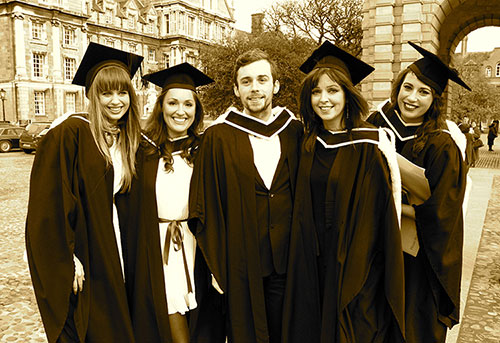 Pictured left to right at their November 2013 Commencements are: Anita Vilka, Simone Roche, James McGrath, Noreen O'Donnell, Alice Norwood
Just because you've graduated doesn't mean your link with Trinity has been broken – your alumni connection is for life. Update your contact details so we can keep you up to date on the events, benefits, services and networks available.
With over 90,000 alumni scattered across the globe, there is a tremendous resource for networking and staying in touch with people who have shared the Trinity experience. The
Trinity Alumni Office
is responsible for keeping all alumni (and friends) in touch with the College and each other through regular communications, events, regional branches and affinity groups.
Stay in Touch
History of Art Alumni Newsletter
Please click on the links below to view our most recent alumni newsletters:
GradLink Career Mentoring Programme

In 2012 the Department launched its first Careers Mentoring Programme - 'GradLink'.   This programme offers Junior Sophister students an opportunity to be mentored by graduates of the Department, now working in a diverse range of careers.  Students benefit enormously from the exchange of ideas with graduates and gain useful insights into how they can best manage their career development.  The programme runs over the course of the academic year, with a launch event in October, a mid-way event in January and 2-3 further meetings.  If you are interested in becoming a mentor, please contact shhmentoring@tcd.ie
For further information on the programme please see: www.tcd.ie/alumni/mentoring/ and also https://www.tcd.ie/History_of_Art/careers/
Click below to view a short video clip of the mid-way mentoring event
Previous Alumni Events
The Purser-Griffith lectures at 80
On the 19th November 2015 the Department hosted a celebration of the 80th anniversary of the Purser-Griffith lectures in the history of art. Over 200 of the roughly 700 graduates of the lecture courses attended. The evening started in the Emmet theatre with a number of short reminiscences of teaching in the History of art: Roger Stalley 'Ravenna and all that….'; Peter Cherry, 'A portrait of the art historian as a young man'; Philip McEvansoneya, 'If paintings could talk'; and Angela Griffith, 'The Diploma – A Story of Art'. This was then followed by an 'alternative' slide test, with Eddie McParland, in which graduates were asked to text their skills in recognising artworks as performed by members of staff.
Attendees then moved to the Exam Hall for a wine reception, where they enjoyed further testimonials and reminiscences of the Purser Griffith lectures from graduates including Noel Healy, Carmel Naughton and Catherine Sheridan.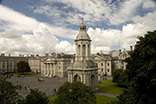 Annual Alumni Event 2014
Thursday 20 November: 'The Eagle Capitals in the Dome of the Rock in Jerusalem'
The Department of History of Art and Architecture Annual Alumni Event took place on Thursday 20th November at 7.30pm in the Emmet Lecture Theatre, Arts Building, Trinity College Dublin. The lecture was delivered by Professor Lawrence Nees of the Department of Art History at the University of Delaware. Professor Nees is one of the foremost scholars of the art of the early Middle Ages and will deliver a lecture entitled "The Eagle Capitals in the Dome of the Rock in Jerusalem". Alumni and guests were invited to attend a wine reception following the lecture.
Professor Nees is author of the standard textbook on the art of the early Middle Ages, Early Medieval Art, 300-1000, together with The Gundohinus Gospels; From Justinian to Charlemagne: European Art, A.D. 565-787, and, A Tainted Mantle: Hercules and the Classical Tradition at the Carolingian Court. He was in Ireland together with a number of other internationally renowned art historians to celebrate the launch of the Royal Irish Academy Art and Architecture of Ireland, and kindly agreed to give a talk at TCD.
Further Details.
Friday 22nd August: Alumni Lunch
The 2014 Trinity Alumni Reunion Weekend took place from 22-24 August 2014. As part of a packed programme of events, all alumni were invited to a Welcome Reception and Lunch on Friday 22nd August from 12pm to 1.45pm. A casual light lunch was held in a special marquee located in Library Square (next to Front Square). The event was hosted by the Alumni Office to welcome all alumni returning to campus for the weekend. For further information go to: https://www.tcd.ie/alumni/weekend/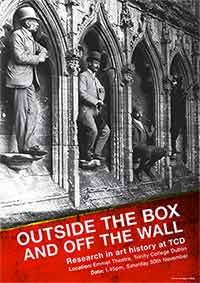 Annual Alumni Event 2013
Saturday 30th November: Outside the Box and Off the Wall: Research in Art History at TCD
The Department hosted a special event for alumni and their guests on Saturday 30th November 2013 in the Emmet Theatre, TCD to celebrate the research activities of staff, research fellows and emeritus staff. A series of short research papers was presented from 2-4pm. This event displayed the exciting range of the Department's current research activity, from Eddie McParland's conservation work for the Irish Landmark Trust to Yvonne Scott's exploration of agendas in landscape art to Peter Cherry's emerging monograph on the portraits of Diego Velazquez. Special guest speaker: broadcaster and former model Marguerite McCurtin spoke about her memories of the Department in the 1980s. The event was followed by a wine reception. We were delighted to welcome so many alumni back to Trinity and the Department.
View the invitation (PDF, 450kb)
View the poster/programme (PDF, 4.3mb)

Further details
Friday 23rd August 2013: Alumni Coffee Morning
Alumni were invited to re-live your student days by visiting the Arts Building for a special alumni coffee morning on Friday, 23 August 2013. This was an opportunity to celebrate your lifelong connection to Trinity by taking a trip down memory lane with old friends and academics over a cuppa.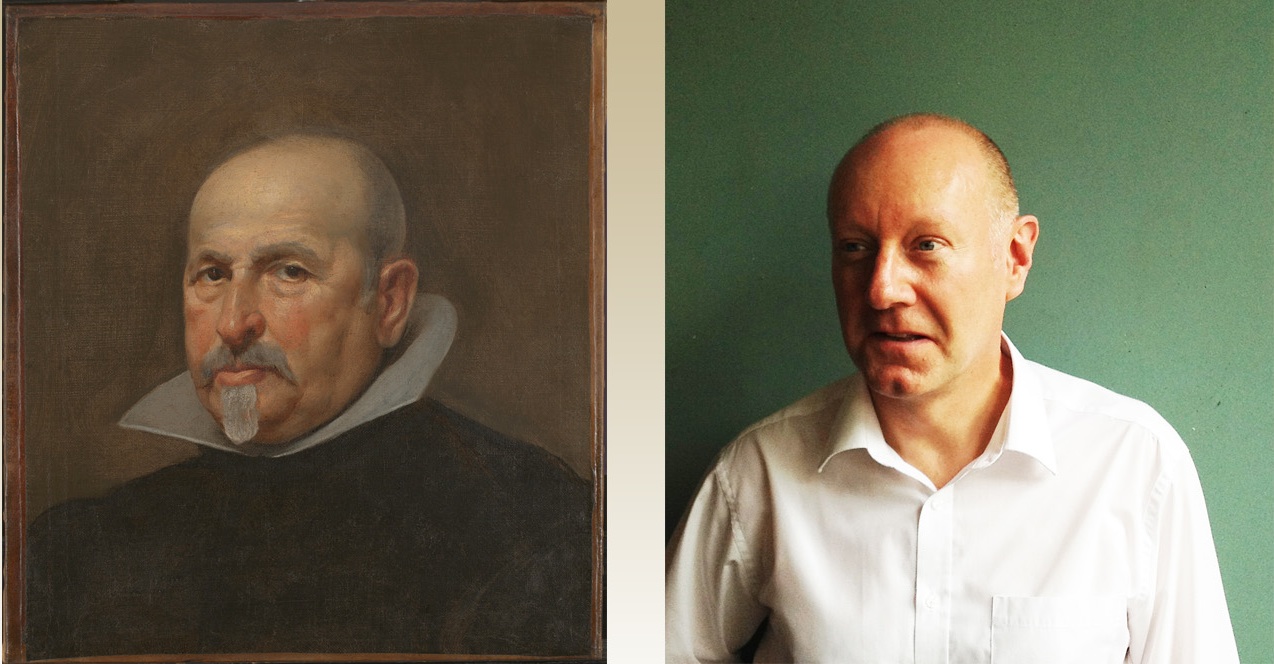 Annual Alumni Event 2012
Wednesday 12th December: Discovering Velázquez: kudos and cash.
The Department of History of Art and Architecture held its Inaugural Alumni Annual Lecture on Wednesday 12th December 2012 in the Emmet Lecture Theatre, Trinity College Dublin. The lecture was delivered by Dr Peter Cherry on: Discovering Velázquez: kudos and cash. Alumni were invited to a pre-lecture reception at 6pm in Room 5083, 5th Floor, Arts Building. Both the reception and lecture were extremely well attended, with staff and alumni reporting a thoroughly enjoyable evening.
Dr Peter Cherry was in the news last year for his attribution to Diego Velázquez of a previously unknown portrait which represents an unidentified middle-aged man in typically austere Spanish costume. It appears to have been painted in the early 1630s, after the artist's return from Rome. The rarity of portraits by Velázquez of individuals outside the royal family make the find doubly important. It was sold at Bonhams London in December for £3m and is now with the New York dealer Otto Naumann.
To view the invitation please click here. (PDF, 119kb)
Photo Gallery
Visit the alumni photo gallery to see photos of recent events.
Share Your Experiences
Have you started a company? Climbed the corporate ladder? Done something wild and unexpected? We encourage alumni to come back to campus and speak to undergraduate and graduate students about their experiences. If you are interested, please contact arthist@tcd.ie
Alumni Appeal
In challenging times, it's natural to concentrate our generosity on the people and causes that really matter. Which is why, as a Trinity graduate, we are asking you to consider making a donation to our Alumni Appeal.
When you make a donation to Trinity, you're not just sustaining a centuries old tradition of excellence. Donations to the Alumni Appeal will make a vital contribution to a better future for our people, country, and planet. Donations will be passed in their entirety to support scholarships in the school. Seventy-five percent of your gift will be allocated to support postgraduate research students and other scholars. The remaining twenty-five percent will be used to support bright students in the school from lower income groups.