HA7030 Medieval Monastic Ireland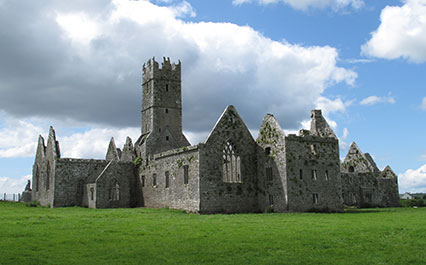 This module deals with the rich remains of medieval monastic buildings in Ireland. It examines the manner in which early monastic settlements were superseded by the abbeys, priories and friaries of orders such as the Cistercians and Franciscans during the twelfth and thirteenth centuries and how the requirements of these new orders shaped patterns of architecture and settlement over subsequent centuries.
Module Organiser:
Contact Hours:
Weighting:
Assessment:

This course is assessed by a group project and an extended essay. Students are also required to actively participate in seminar discussions and to complete reading in preparation for the seminars.
The module looks at how patronage, liturgy and other influences shaped the buildings and their contents, and how the location of monastic houses impacted on the development of both urban and rural landscapes. It also moves beyond the Middle Ages to explore issues of survival and the debates surrounding the contemporary care, management, display and conservation of the monastic landscape.
Learning Outcomes:
On successful completion of this module, students should be able to:
Describe the principal developments of the monastic architecture of the medieval period in Ireland
Formally analyse the monastic architecture of the medieval period in Ireland using appropriate terminology
Critically assess the impact of the European monastic orders on the development of Irish monastic architecture during the later medieval period
Critically assess the impact of the European monastic orders on settlement and urban morphology and place Irish settlement and urban patterns in the late medieval period within a broader European context
Apply the interdisciplinary methodologies used in the study of late medieval ecclesiastical architecture and landscape
Critically assess the key primary and secondary literature on monastic medieval Ireland and situate it in its historiographical context
Complete an intensive, self-motivated study of a historical problem relating to the monastic architecture of medieval Ireland with high quality research organization and presentation