Alumni Interviews
Lenny Abrahamson
B.A. (1990) Mental and Moral Science (Philosophy)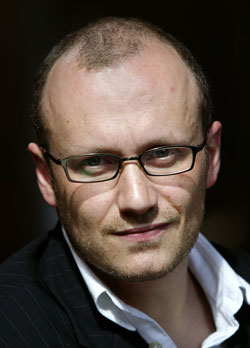 What projects are you working on now, or have coming up?
The main focus at the moment and through this Autumn is finishing work on NORMAL PEOPLE, adapted from Sally Rooney's wonderful novel set in Ireland. We shot this Summer - including a week in Trinity which was great - and I'm editing now. It's a TV series for the BBC and Hulu in the States, and should be on screen next Spring. I'm working on some feature projects at the same time. One is a film based on the life of a Emile Griffith, a boxer who was world champion in the early 60's and who lived a kind of double life moving between the macho mid-century sports world and a semi-secret life in the underground gay scene in Manhattan. I'm also working again with Mark O'Halloran on a film set in the West of Ireland in the early 80's. As always, Mark's writing is extraordinary. There are other feature projects that I'm excited about and I'm developing more TV also.

What do you consider to be your biggest achievement?
That's a very hard question to answer. Probably, the fact that I've managed to do what I set out to do - to sustain a life as a film maker. But I don't dwell on any success, I'm more inclined to think about what I haven't done as well as I might have, or on the distance between what I've done and the very best work that's out there. I'd like to do better in the future.

What did you enjoy most about your time as a Trinity student?
Having time to think and the stimulation of talk with interesting, intellectually engaged people, both peers and teachers. I remember mostly a feeling of excitement, of an open ended flow of ideas, of horizons expanding without the pressures of life that crowd in as one gets older.

What do you think is the relevance of the study of Philosophy today?
It seems that truthfulness, clarity, expertise are being actively devalued by powerful movements in cultural and political discourse at present and it's vital to fight against this. Studying Philosophy - and the Humanities and Arts in general - is a mind opening and thought deepening experience which in itself is an affirmation of those aspects of culture so under attack.

Which philosophers or thinkers, past and present, have had the most influence on you?
I studied Spinoza as an undergrad and still find his thinking rich and relevant. I'm reading Ta-Nehisi Coates and Barbara Ehrenreich at the moment and enjoying both.

What advice would you give to students starting out in Trinity today?
Just to make the most of what is a unique opportunity. Talk to as wide a range of peers as possible. Get involved even if it seems daunting to start with.