The Department of Clinical Speech and Language Studies in Trinity College Dublin are hosting the Irish Premiere of WHEN I STUTTER:

Venue: Jonathan Swift Theatre, Arts Building, Trinity College Dublin
Time: 12 December 2019 at 18:00 pm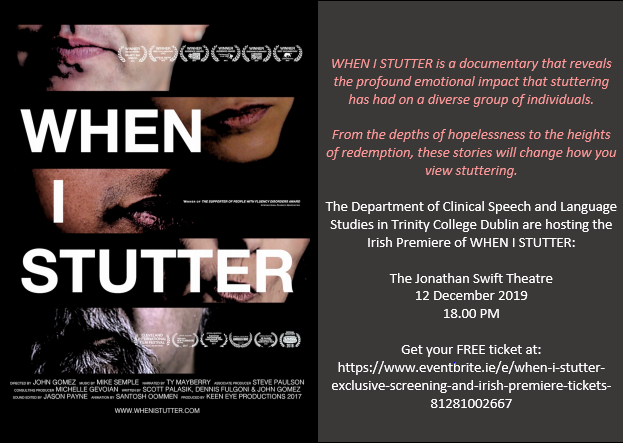 WHEN I STUTTER is a documentary that reveals the humanity that exists within an often mysterious malady. Over the course of 4.5 years, 19 people shared stories about how stuttering has impacted their lives. These stories run the gamut of human emotion… Some are dark, some are funny and others are triumphant! Additionally, there are "educational vignettes" interspersed throughout the documentary that help illuminate some of the mysteries and questions that surround stuttering. A vital storyline in this film follows a young man on his journey through stuttering therapy. The relationship that he forms with the speech pathologist and the progress that he makes is heartwarming. It demonstrates the wonder and beauty that can occur when one meets the right person at the right stage in life!
WHEN I STUTTER has won numerous international awards, including:
BEST DOCUMENTARY FEATURE- Lisbon International Film Festival
EMERGING FILMMAKER AWARD- Chagrin Documentary Film Festival
AUDIENCE AWARD DOCUMENTARY FEATURE- Awareness Festival
AUDIENCE AWARD DOCUMENTARY FEATURE- Kansas International Film Festival
BEST DOCUMENTARY FEATURE- Borrego Springs Film Festival
2018 MEDIA AWARD- Granite Bay Speech
EXCEPTIONAL MERIT AWARD- Docs Without Boarders Film Festival
BEST DOCUMENTARY FEATURE (RUNNER-UP)- Albuquerque Film and Music Experience
SUPPORTER OF PEOPLE WITH FLUENCY DISORDERS AWARD- International Fluency Association
From the depths of hopelessness to the heights of redemption, these stories will change how you view stuttering forever.
See the trailer: http://experience.whenistutter.org/292519658 "