Past CPD Courses and Events
Postgraduate Research Seminar in Dysphagia, Voice and Communication, March 30th 2017
Current TCD postgraduate (MSc and PhD) students within our department will present their research on a range of topics relating to dysphagia, voice and communication.
Speech and language therapists, health and social care professionals (HSCPs) and students are all welcome to attend this free event which will take place in the Innovation Academy, Foster Place, Trinity College Dublin. Timetable here and registration below.
7th European Society of Swallowing Disorders (ESSD) Conference and World Dysphagia Summit, Barcelona
This year's ESSD Congress will be a World Congress with representative from DRS, The Japanese Dysphagia Society and Europe. Deadline for abstract submission is 15th May 2017. Abstract submission is now open and preliminary programme available. Deadline for Early Bird Registration 15th March 2017.
British Laryngological Association (BLA) Annual Conference 2017: The Larynx Young and Old
Abstract submission deadline is Friday 2nd June 2017. The conference will be held on Friday 29th September 2017.
For more details see here.
Online Intermediate Tutorial in Reading and Interpreting Videofluoroscopy Studies
See this recently developed online ASHA course given by Dr. Joe Murray.
7th United Kingdom Swallow Research Group (UKSRG) Conference 2018
Save the date: 7th UKSRG, London. 1st-2nd February 2018. See www.uksrg.org.uk for more details.
Launch of Online CPD Course in Instrumental Dysphagia Evaluation
The Department of Clinical Speech and Language Studies is delighted to announce a new online continuing professional development (CPD) course in Instrumental Dysphagia Evaluation. This course has been designed both for speech and language therapists and any health and social care professionals with an interest in dysphagia. This two-week clinically focused course, which has been developed by Dr. Julie Regan and Dr. Margaret Walshe, aims to provide qualified speech and language therapists and other health and social care professionals with the opportunity to develop their understanding of instrumental dysphagia examinations.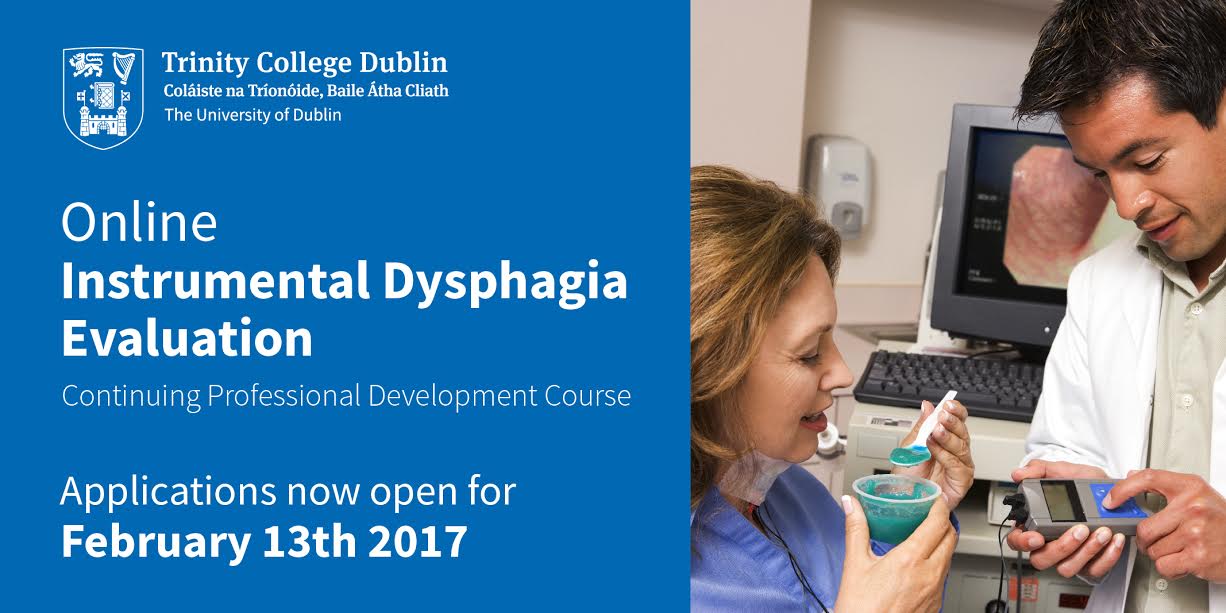 This online course can be considered towards CPD for professionals associated with CORU and will provide 6 CPD credits.
Applications are now open for this online CPD course. Registration closes on Monday 6th February. Course details are available here: https://www.tcd.ie/slscs/continuing-professional-development/. Please note this course does not provide a professional qualification to work in the field of dysphagia. Certificates of Participation will be provided to students who complete the course.
Interdisciplinary Evaluation of Swallowing and Voice: Exploring the Aerodigestive Tract. Two Day Conference, TCD. 10th & 11th November 2016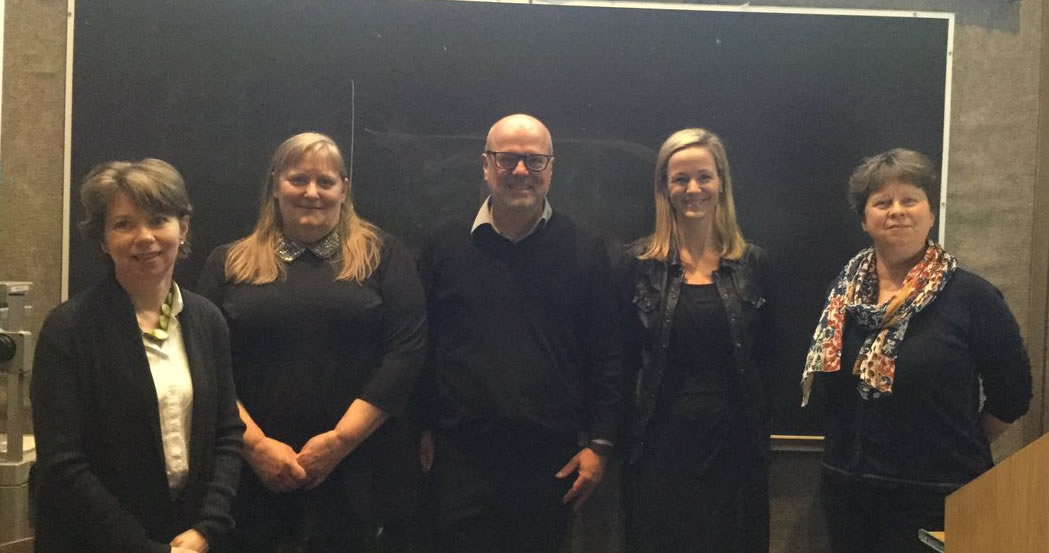 We were delighted to host a two day Swallow and Voice Conference on November 10th & 11th 2016 in Trinity College Dublin. This event was sponsored by Nutricia with additional support from Sword Medical and Perrigo. One hundred delegates attended the conference!
Renowned international experts in the field of dysphagia who spoke at the conference included Dr. Joe Murray (Ann Arbour VA Healthcare System, USA), Prof. Maggie-Lee Huckabee (University of Canterbury, New Zealand), Dr. Tobias Warnecke (Munster University, Germany) and Dr. Hanneke Kalfe (Netherland).
They were joined by several national dysphagia and voice experts including Dr. Patricia Gillivan Murphy (Clinical Specialist SLT, Mater Hospital, Dublin), Mr. Mark Rafferty (Consultant ENT Surgeon, St. Vincent's Hospital, Dublin), Dr. Claire Healy (Dublin Dental Hospital, TCD), Aifric Conway (SLT, St. Colmcille's Hospital), Carolee McLaughlin (Specialist SLT, Royal Free Hospital, Belfast) and Patricia Lawlor (GI Physiologist, St. James' Hospital, Dublin).
Feedback from the conference was extremely positive.
Paediatric Dysphagia Seminar with Dr. Joan Arvedson, 19th October 2015
We were priveliged to host a one day course with international expert Dr. Joan Arvedson in October 2015.
Dr. Arvedson presented a research study day on complex paediatric dysphagia. It was, of course, very well attended and promoted much discussion.