Celebrating 50 Years of Speech and Language Therapy Education in Ireland
Trinity College Dublin's Department of Clinical Speech and Language Studies celebrates its 50th anniversary this year with a number of special events. The Department is the oldest established center for the education of Speech and Language Therapists (SLTs) in Ireland, and was originally founded and developed by Sister Marie De Monfort as the Dublin School of Speech Therapy. Today students can enroll in a 4 year undergraduate programme, taught masters, research masters, and PhDs in a variety of specialist areas, including dysphagia (swallowing difficulties), dysphonia (voice disorders), and aphasia (the communication disability that happens following stroke).
On Speaking Terms: Eight Centuries of Communication Disabilities
Communication is at the heart of who we are as human beings and communication disorders mirror the diversity of our humanity1. Reflecting this belief, the 'On Speaking Terms: Eight Centuries of Communication Disabilities' exhibition was launched in September 2019 provides a glimpse into eight centuries of communication disabilities. This exhibition was a year-long interdisciplinary project, which involved exploring the medieval texts in the Library of Trinity College, searching for historical references to communication and swallowing difficulties. The words and phrases, when viewed within the historical and textual context, provide a window into how these disorders were problematized, understood and managed1. The project was led by Dr Caroline Jagoe (an assistant professor in the Department of Clinical Speech and Language Studies), with support from Dr Deborah Thorpe (a medievalist who has studied the history of medicine), and Dr Margaret Leahy, (a retired senior lecturer in the Department of Clinical Speech and Language Studies).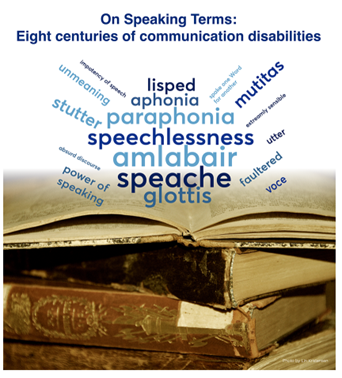 After searching through medieval texts, the researchers found an array of information on how communication difficulties were perceived by society and how they were dealt with through the centuries before SLT was a formalised profession. For example, the researchers found that applying garlic and lard to the feet was once considered a remedy for a hoarse voice, while the King of Ulster was recognizable by and for his speech difficulties, with the public referring to him as 'Cúscraid the stammerer'2.  This exhibition not only celebrates this historic year in SLT education, but recognizes the original roots of the profession, and the evolution of knowledge and practice towards today's modern standards.
You can visit the exhibition now in the Long Room within the Library of Trinity College, and there are additional links to exhibition resources below.
Completion of this project was supported by funding from the Research Incentive Scheme (Trinity Long Room Hub) and the TCD-Wellcome Trust ISSF in Neurohumanities.
References: