Whately Professor of Political Economy gives Lecture on the Benefits and Risks of Cross-border Banking
Posted on: 01 October 2012
Financial integration offers many benefits, but also poses risks. Recent events, from the US subprime mortgage crisis to capital flow reversals and the European banking crisis, have shaken the faith that even advanced economies can harness the benefits of greater financial flows and deepen financial integration without incurring costs. It is against this backdrop that Whately Professor of Political Economy, Philip R. Lane, at Trinity's
School of Social Sciences and Philosophy
, gave a lecture to mark the launch of a new report by The Committee on International Economic Policy and Reform (CIEPR)
http://www.brookings.edu/events/2012/09/26-capital-flows
earlier this week.
Professor Lane is a member of CIEPR, a non-partisan, independent group of academics and former government and central bank officials which aims to analyse global monetary and financial problems, offer systemic analysis and advance reform ideas.
"The objective of the group is to advance reform ideas that would ordinarily not emerge from official processes. It aims to recommend solutions intended to reconcile national interests with broader global interests." According to Professor Lane: "In the new report Banks and Cross-Border Capital Flows: Policy Challenges and Regulatory Responses we suggest ways in which policy should be adapted to reap the benefits of cross-border capital flows while minimising their costs," Professor Lane added.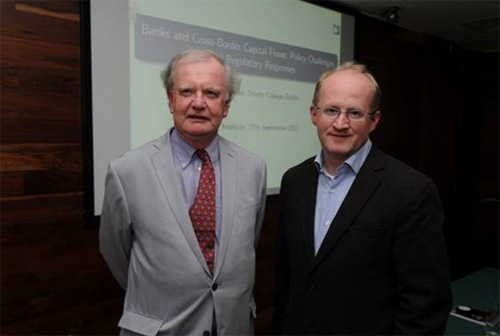 Dr Donal Donavan and Professor Philip Lane
In his talk Professor Lane considered how best to benefit from greater financial integration while limiting adverse effects, especially the risks posed by cross-border banking flows. He noted that for the euro area, this would require full banking integration together with robust financial regulation. He also explored how under some conditions, it may be useful to directly manage capital flows, although the associated political economy risks mean this should be only used very selectively.
The lecture was chaired by Dr Donal Donovan who has contributed extensively to media discussions on the current Irish and euro debt crises and has been a member of the Irish Fiscal Advisory Council since mid-2011. Dr Donovan is also an economics alumnus of the School of Social Sciences and Philosophy.
Professor Lane's lecture is part of the School of Social Sciences and Philosophy's public events programme, organised by the Policy Institute, which plays a key role in enabling the public to engage with the School and its work, and in ensuring that leading academics and policy makers from around the world are publicly accessible. For additional details visit the Policy Institute website –
www.tcd.ie/policy-institute.
Speaker Biography
Philip R. Lane is Whately Professor of Political Economy and Head of the Economics Department at Trinity College Dublin. His research interests include financial globalisation, macroeconomic policy, European monetary integration and the Irish economy. He is a research fellow of the Centre for Economic Policy Research (CEPR) and a member of the Royal Irish Academy. In addition, he is a member of the Committee on International Economic Policy Reform (CIEPR), the Bellagio Group, the Euro 50 Group and the Euro-nomics Group.