Trinity Week 2009 – A Week of Public Lectures, Debates, Films and Events is Launched
Posted on: 06 May 2009
Trinity Week 2009 – Celebrating College life at Trinity College Dublin
Trinity Week is a long established celebration of College life and this year with 'energy and sustainability' as its theme, Trinity College Dublin's Faculty of Engineering, Mathematics and Science, has put together an exciting programme of symposia, events, films, debates, trails and workshops all of which are free and open to the public during Trinity Week 2009, which will commence on May 11th -15th next. The packed programme of events for Trinity Week 2009 was launched by TCD Provost, Dr John Hegarty on Tuesday May 5th at Trinity College Dublin.
Highlights of the programme include a day-long Trinity Week Academic Symposium on Wednesday, May 13th (Edmund Burke Theatre, Arts Building, 9am-4pm) with 'Low Carbon Society: Waste Not Want Not' as its theme, chaired by Dublin City Manager, John Tierney and opened by the Minister for Communications, Energy and Natural Resources, Eamon Ryan, featuring speakers such as Cambridge University's David McKaywho will speak on 'Sustainable Energy: Without the Hot Air', Financial Times journalist, Harry Eyres who will speak on 'Recovery or Reappraisal Low Carbon Society' and Professor of Civil Engineering at the University College London, Professor Nick Tyler, who will speak on 'Transportation: How Sustainable is Sustainability'.
Also on Friday, May 15th, the Environmental Footprints Symposium in association with the Environmental Protection Agency will take place (Burke Theatre 9.30am-4.30pm) which will include a debate on climate justice, featuring Dr Mary Robinson, followed by a round table discussion.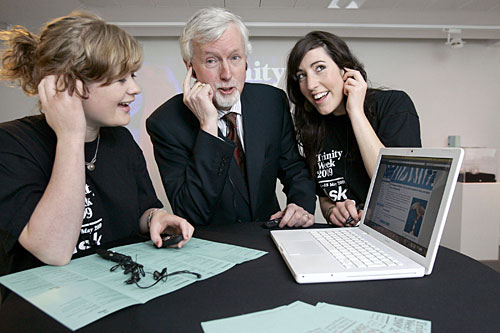 Pictured at the launch of Trinity Week 2009 is Provost Dr John Hegarty with TCD students Elizabeth O'Reilly and Siobhan O'Brien.
Throughout the week there will be a series of films shown on climate change and trails, including a biodiversity trail and visits to Trinity's new Astronomy Observatory, Geology and Zoology Museums, as well as a number of community outreach events, including 'Galileo's Telescope' Workshop, and 'Seed Dating,' an opportunity to meet and share ideas with a group of people from a variety of disciplines.
For all details of this fun and exciting packed programme for Trinity Week 2009, click on www.tcd.ie/trinityweek – all events are free and open to the public.
Commenting on the significance of Trinity Week, Provost, Dr John Hegarty said:
"Trinity Week is a special week in Trinity College Dublin when we as a community celebrate high standards of achievement among our students and our academic staff. There are a number of distinctive events, celebrating various aspects of College life, including the Trinity Week Academic Symposium which draws together experts from across the world. This year 's Trinity Week's programme has been organised by the Faculty of Engineering, Mathematics and Science".
"With the theme, Energy and Sustainability, the environment and biodiversity, energy and sustainability and waste generation will be discussed, among other issues, in the context of a future green economy, low carbon living and global warming. These issues have a real impact on our lives today and more importantly in future years. It is therefore important that we debate these issues in order to plan for the future. It is the role of a university to contribute to these discussions through research and innovation, outreach and engagement with society. "
Also on the occasion of the announcement of the Trinity Week programme, Science Safari, apodcast trail of Trinity's rich scientific heritage was launched. The new self-guided tour spans 400 years of the college's history, right up to current scientific research and was created by science writer and broadcaster, Mary Mulvihill.
Did you know that hanging was made more humane in the 1860s, thanks to calculations by a TCD geology professor? That an engineer from Ireland invented the engine that would electrify the 20th-century? That one of the most successful drugs for treating leprosy was discovered in the 1960s by medical research chemists at TCD looking for a drug to treat TB?
These are just some of the stories featured in a unique new podcast walking trail of TCD's rich scientific heritage. Modern research featured includes the first successful nicotine patch, and the physics of foam, which has inspired artists and architects.
The podcast trail was produced by Aileen O'Meara's Twintrack Media Productions.
For all details of the programme for Trinity Week 2009, click on www.tcd.ie/trinityweek