Trinity College Institute of Neuroscience Celebrates 10 Years of Leading Brain Research in Ireland
Posted on: 10 November 2010
The Trinity College Institute of Neuroscience (TCIN), leads brain research in Ireland and is the country's only dedicated neuroscience research institute, celebrated its 10th Anniversary this year. TCIN has led the growth of Trinity College Dublin's and Ireland's strong international reputation in neuroscience over the last decade to become one of Europe's leading research institutes.
The mind and brain sciences reach into every aspect of human behaviour. The discoveries made in TCIN allow us to lead international research collaborations that drive changes in industry and clinical practice. Two of the major challenges that we face in the coming years are diseases of the ageing brain and optimising brain development and learning.
Diseases of the brain account for about 35% of the overall disease burden of the European Union, costing about€?400 billion per year. These costs will increase dramatically as the population of the EU ages. Delaying the onset and attenuating the disease burden would enhance individual quality of life and reduce the strain on the healthcare systems of the EU.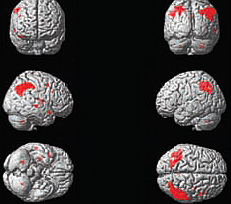 Brain MRI.
Neuroscience research also promises transformative effects on education, as the importance of critical developmental periods and of appropriate environmental enrichment to maximise human potential become understood.
TCIN is successfully addressing these challenges through interdisciplinary research in our three research foci:
1: Synapses, Cognition and Behaviour
2: Neuropsychiatry and Neurodevelopmental Disorders
3: Neurodegeneration, Neuroprotection and Neurorepair
and supported by our advanced platform technologies in Imaging and Neural Engineering.
Ageing research is a good example of TCIN's interdisciplinary, translational approach involving TCIN based principal investigators from all three research foci. It has a major clinical work programme in the Mercers Institute for Successful Ageing based in St James's Hospital, Dublin, and The Irish Longitudinal Study on Ageing (TILDA). It is also involved in developing technologies to assist older people in their daily lives with the Technology for Independent Living (TRIL) programme with GE and Intel.
As it celebrates the 10th anniversary of the inception of the Trinity College Institute of Neuroscience, it renews its shared vision of a world-class neuroscience research institute. To mark the occasion, TCIN held a symposium on November 9th last. Among the international guest plenary speakers were:
Prof. John P. Aggleton of University of Cardiff who spoke on the topic 'Hippocampal-anterior thalamic pathways for memory: Uncovering a network of direct and indirect actions'
Prof. John O'Keefe of UCL, London who spoke on the topic 'The postnatal development of spatial cells in the hippocampal formation'
Prof. John Foxe, Albert Einstein College of Medicine, New York who spoke on the topic 'The neurophysiology of deploying anticipatory attention'
For more information on TCIN can be found on the website.